Grow your business as a preferred partner of Paycom
Streamline your HR processes and let employees do their own payroll, all in our single software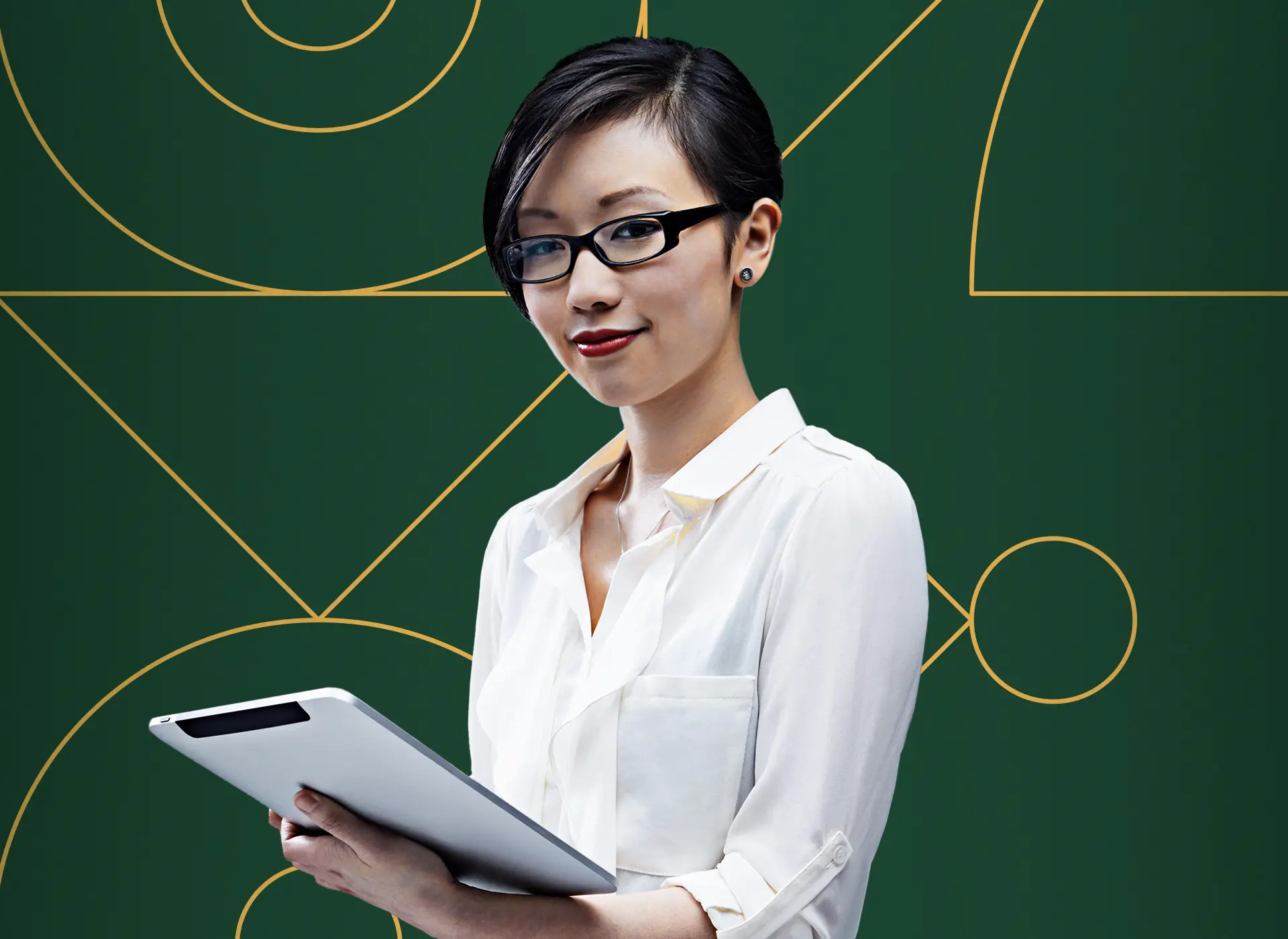 Why choose Paycom?
Employee-guided payroll accuracy
Our industry-first experience automatically flags errors, then guides employees to fix them before submission. As they guarantee accuracy, watch costly corrections and liability fade.
Mitigated compliance risk
Our single system of record keeps employees' data accurate and consistent for your peace of mind. Easily access, organize and report important information to mitigate your organization's exposure.
Actualized ROI strategy
The more your employees use Paycom, the greater your ROI and companywide benefits. Our software automatically measures their usage and calculates its bottom-line impact.
Private equity firms

Franchises

National associations
Private equity firms
Provide standardization to scale, unmatched support for your compliance strategy and real-time analytics to drive the enterprise value of your portfolio.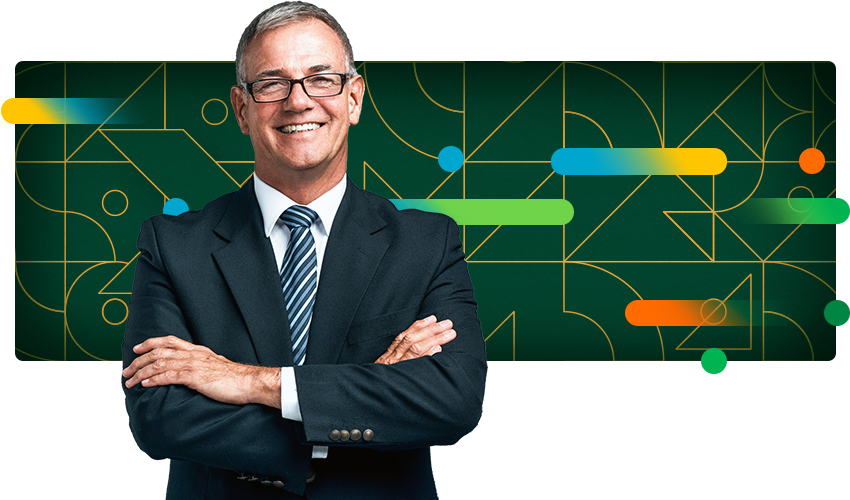 Franchises
For franchisers and franchisees, efficiency equals profitability, which spurs growth. Our seamless data flow eases onboarding, compliance and more.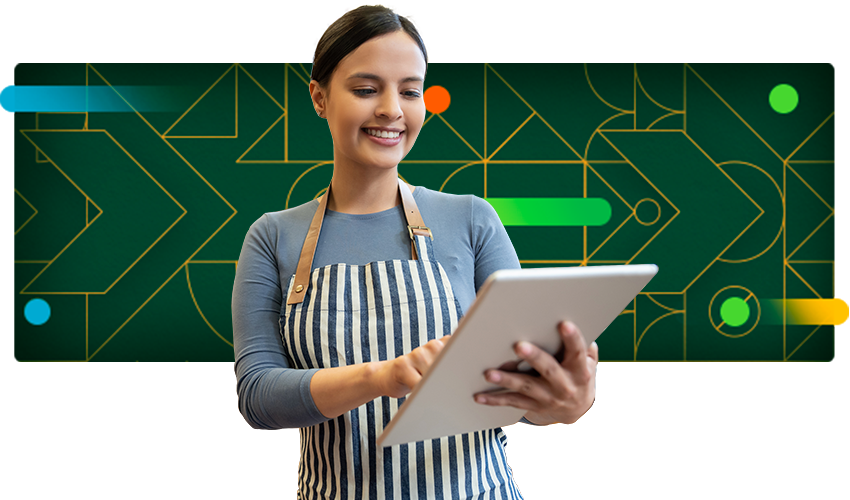 National associations
Drive your members forward with smooth recruiting and hiring processes, and compliance help with taxes and legislation for audit-readiness.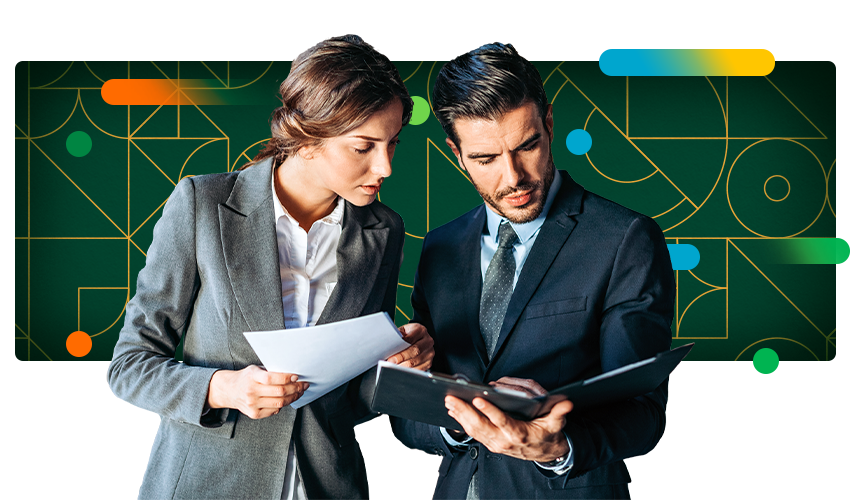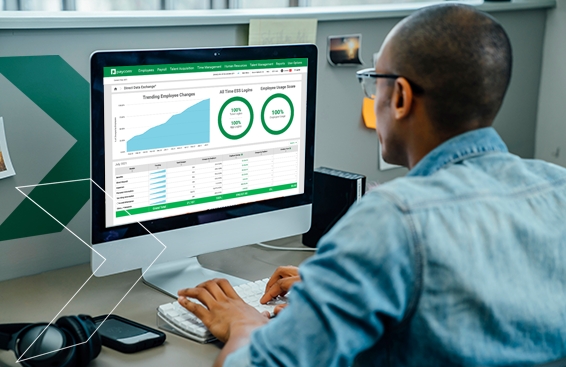 How you benefit
No matter your pain points, our industry-first software:
IDs payroll errors, then guides employees to fix them before submission
measures employee usage to prove its worth (based on EY data)
eliminates data reentry to help strengthen compliance
When you empower your employees and managers with direct access to their HCM info in Paycom's easy app, you've set up your organization for success.
Our solution in a single software
Accurate payroll
Simplified time and attendance
Efficient recruiting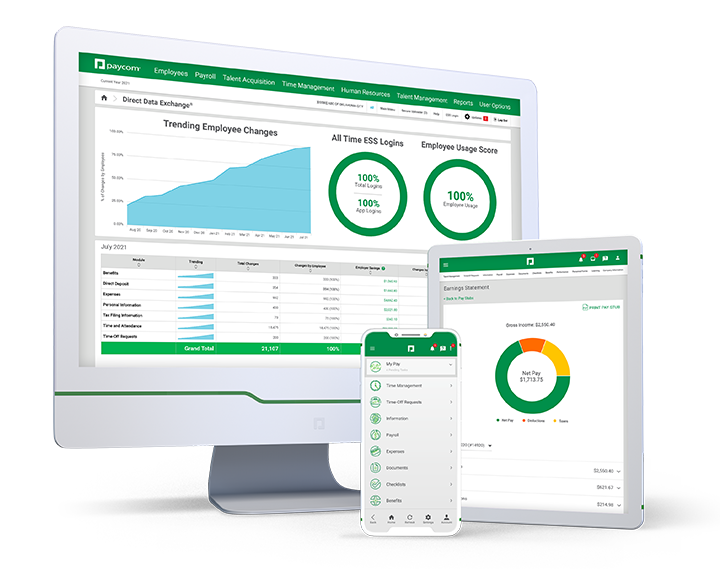 Unwavering security
Higher retention
Proactive compliance help
Who we are
For a quarter century, Paycom has transformed workplaces nationwide with employee-first tech that frees HR to focus on big initiatives. Our innovation, management and culture have been recognized and honored along the way.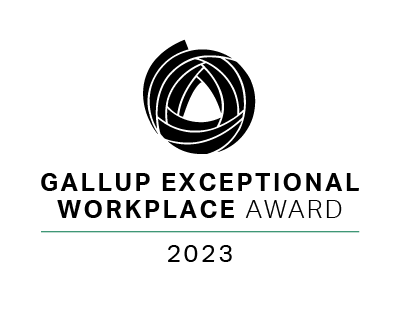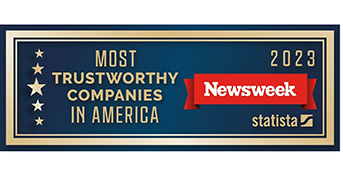 What our clients say
See what users nationwide say about comprehensive HR and payroll software. More than 785,000 five-star App Store reviews can't be wrong!
"Every CEO in America should use Paycom."
—president, aviation facility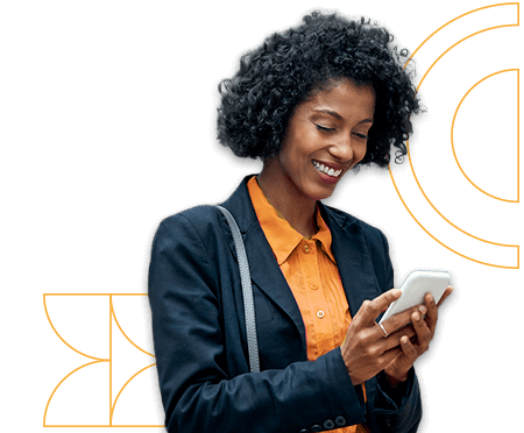 See what Paycom does for your business.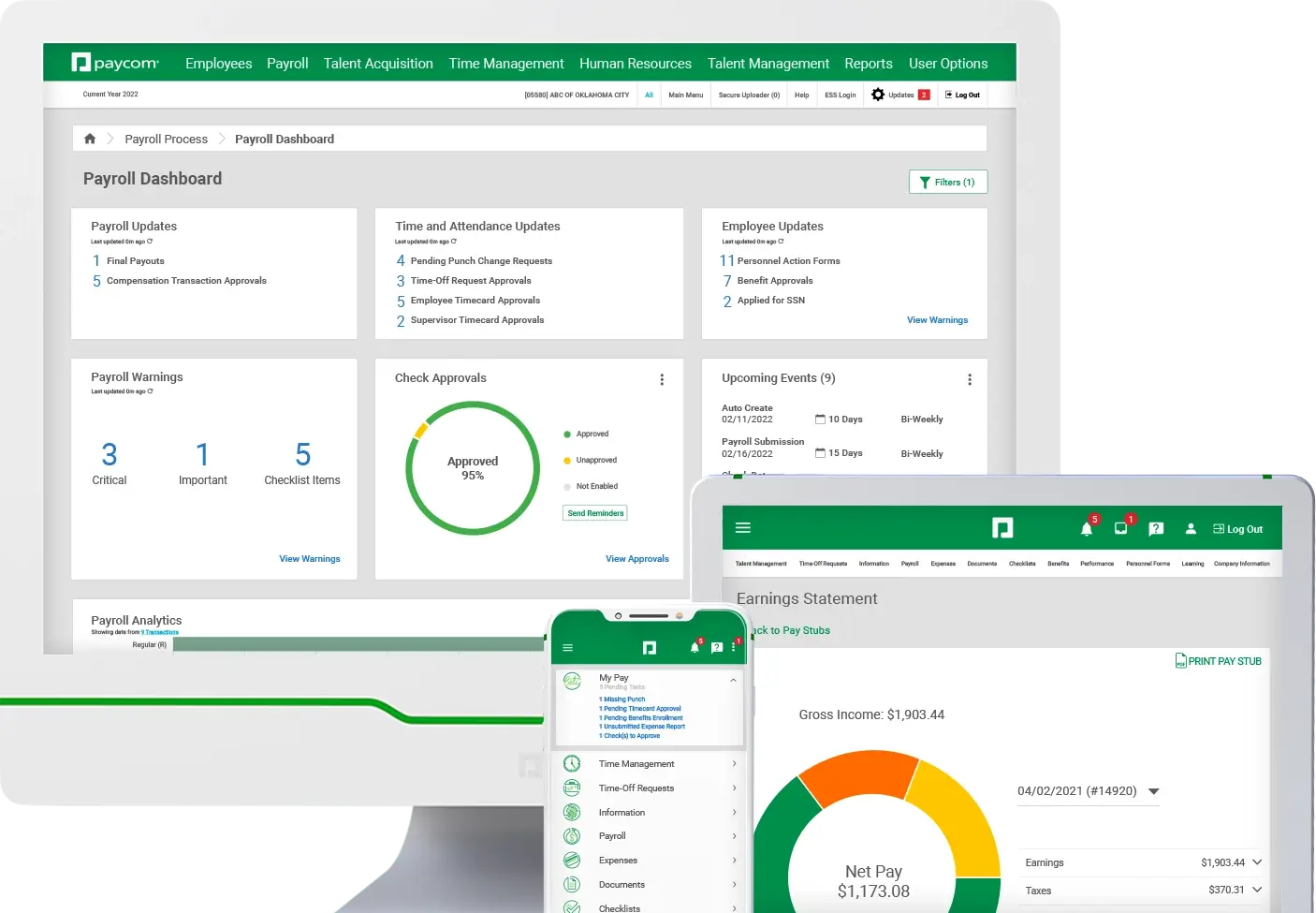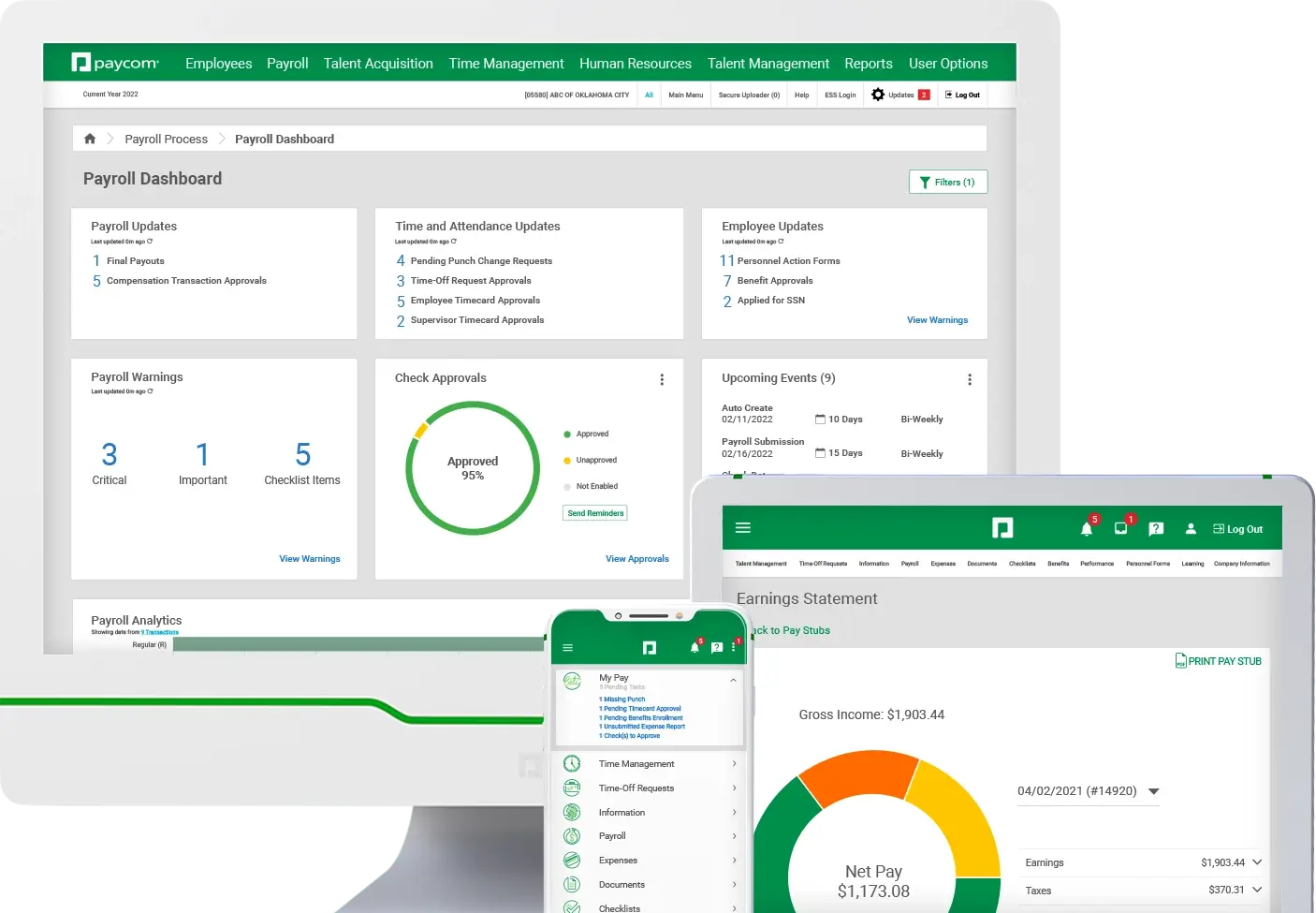 See what Paycom does for your business.