Benefits Administration
Enjoy a streamlined enrollment process for you and your employees, with benefits administration HR software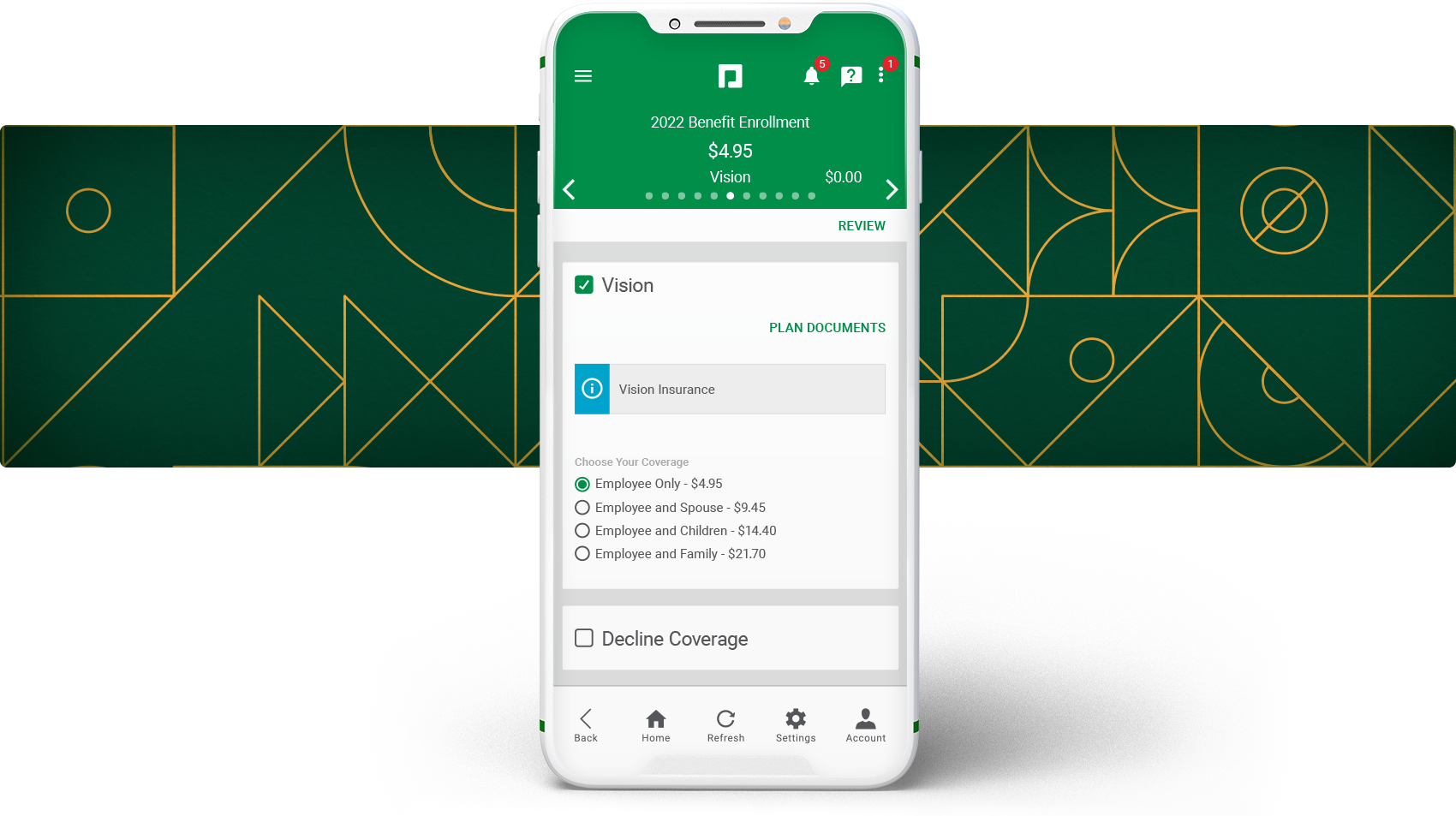 Smooth benefits administration designed for less stress and more security
Paycom's Benefits Administration software streamlines and automates the enrollment process to ensure sensitive employee information is safe and accurate. Ditch the spreadsheets for a tool that drives informed decisions; reduces errors that can lead to costly violations of HIPAA, COBRA and others; and frees you from paperwork so you can serve as a true resource.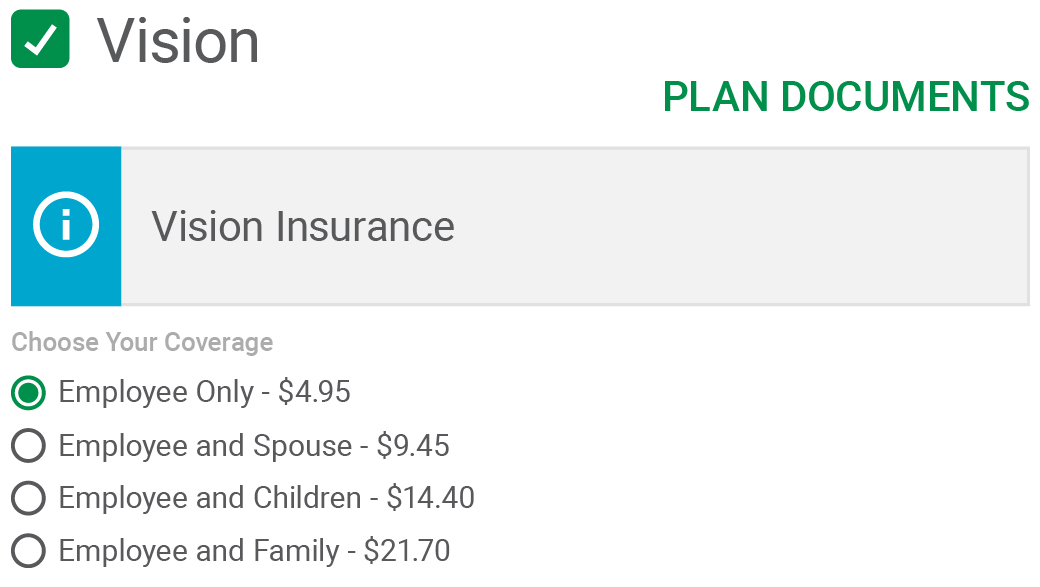 On desktop or mobile, our self-service mobile app easily guides employees through enrollment. They can review plan documents and test how deductions will affect their take-home pay before choosing. Once they enroll, payroll automatically updates so no one has to retype a thing.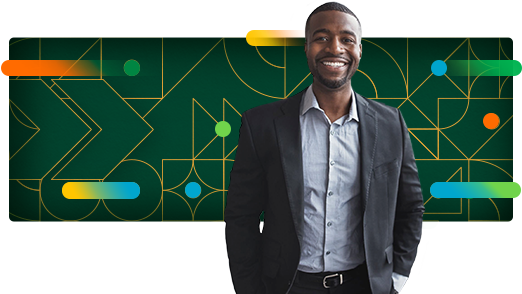 Enjoy flexibility in defining each plan with deduction amounts, enrollment dates, new-hire waiting periods and more. Setting future premium and deduction amounts is a snap, as well as batch-updating those amounts and uploading carrier links, policies and more for employees' access.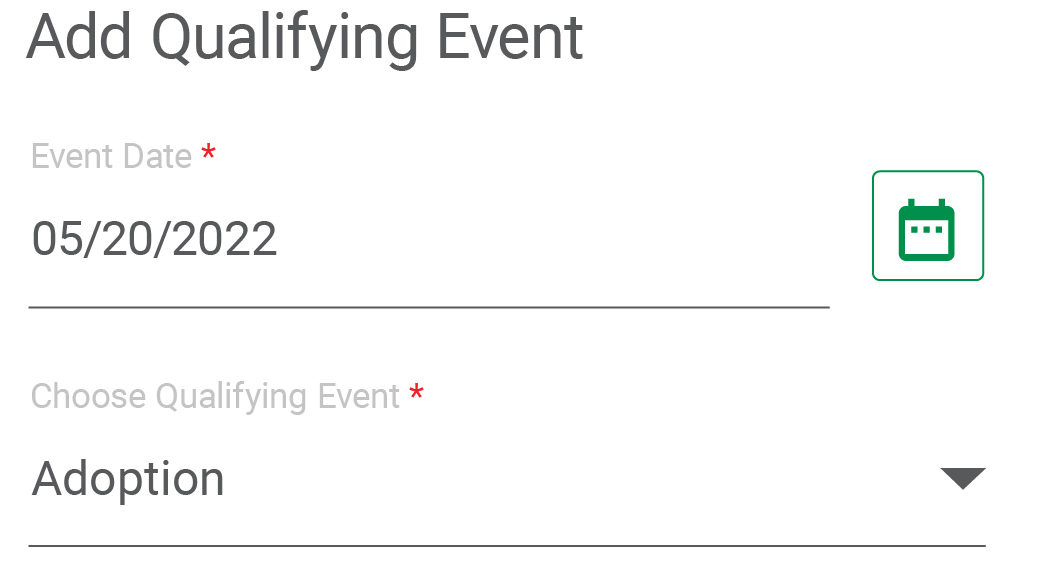 Paycom's software generates reports to help ensure you don't overpay for benefits; see, notify and remind those eligible to enroll; access details of changes within a time period; and view who chose which benefits. Before renewal, run reports on census, dependents and qualifying events.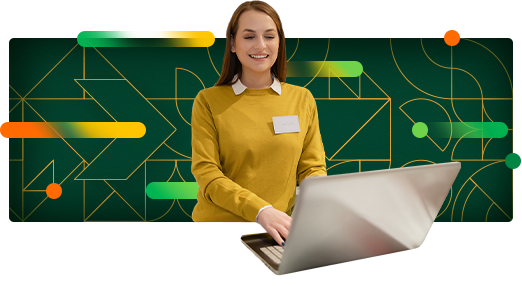 To help ensure seamless employee coverage, add our Benefits to Carrier tool to close the gap on disparate data among multiple spreadsheets and databases. Enjoy the confidence and efficiency of an automated, secure carrier communication line that helps keep things from falling through the cracks.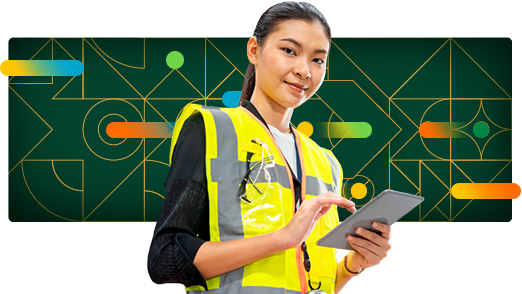 For an even lighter workload, add a Paycom benefits coordinator to develop a customized enrollment game plan. Your coordinator will facilitate third-party conversations, set up plans and features in our software, and reconcile enrollment and deductions for a perfect first payroll of the new plan year.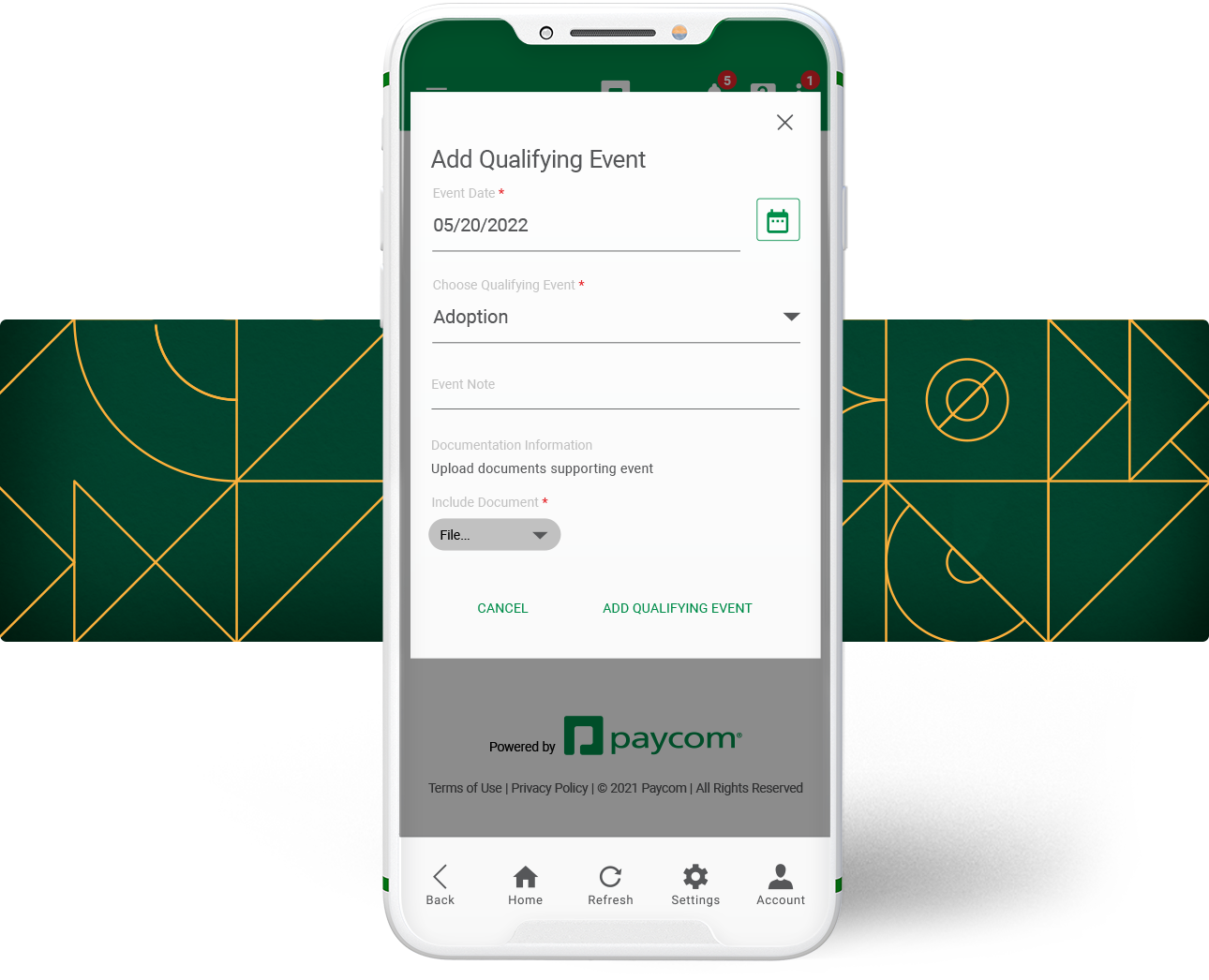 Empower employees with benefits administration HR software
view and select benefits for themselves and their dependents
view per-pay-period deduction amounts
preview how deductions affect take-home pay
access plan documents and other employer-uploaded items
add qualifying events
add and edit beneficiaries and dependents
access current and historical benefits
view itemized compensation values for health plans, 401(k) matching and more
Employees gain confidence in their enrollment choices
Over 6.5 million Americans rely on Paycom's technology every year
"Employees feel more comfortable with enrollment because it's all in one place and all their communications go through there. So it just makes for a much smoother process."
HR vice president
aircraft engineering company
Benefits Administration works well with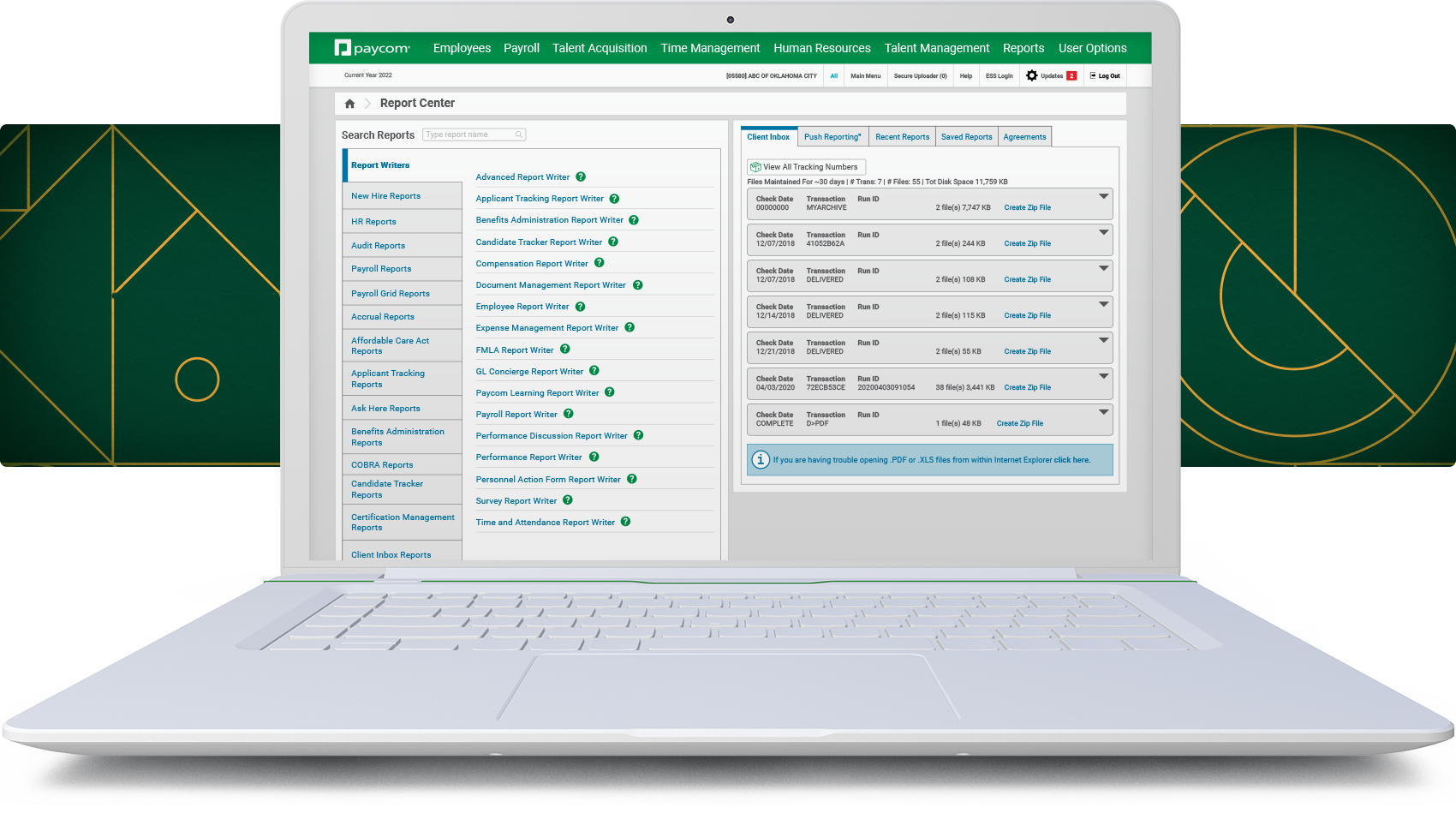 Easily generate and review customizable or predefined reports across all workforce data in real time.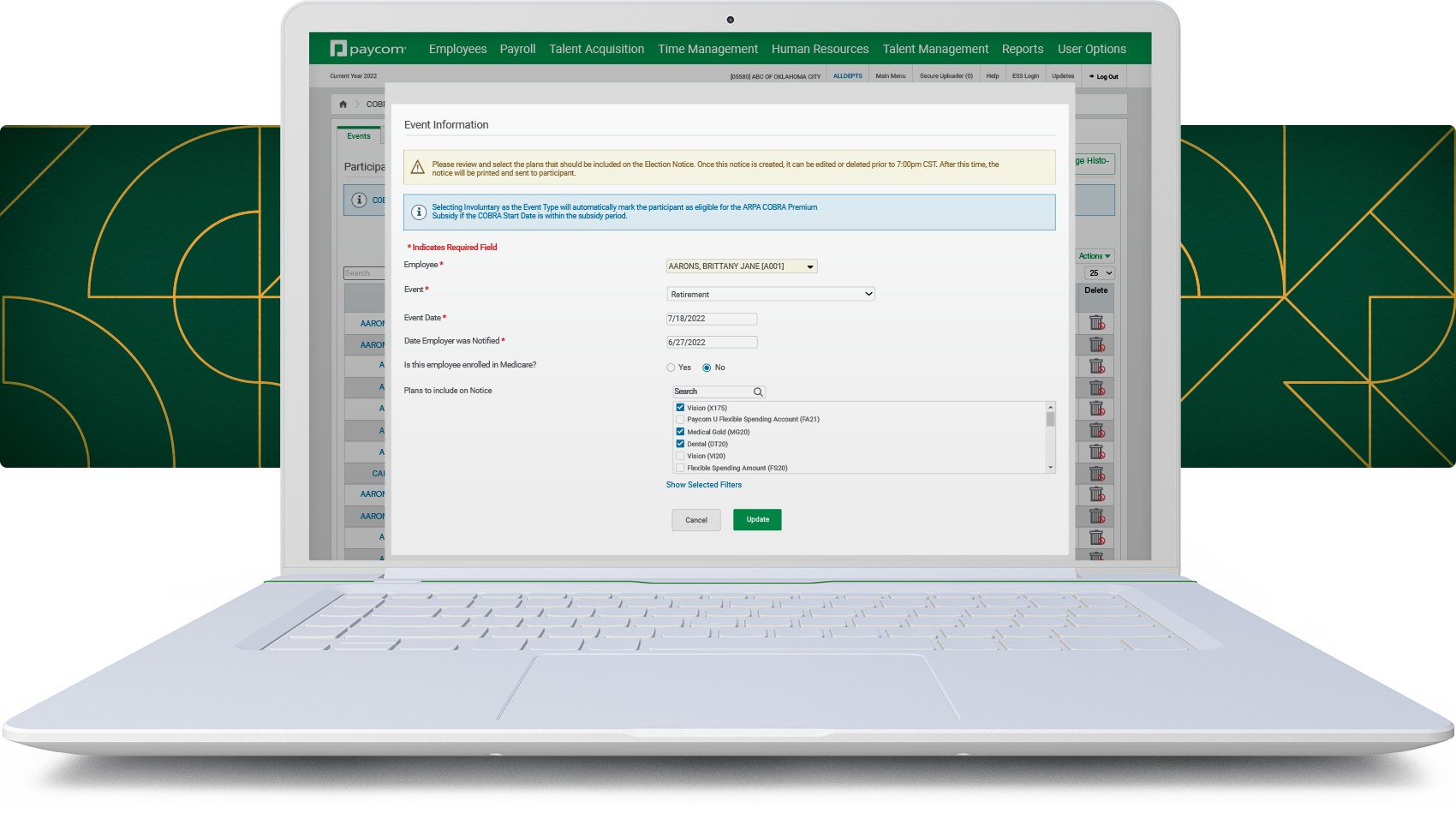 Protect your business against exposure to COBRA violations, fines and penalties.
Explore these resources for greater HR management insight
FREQUENTLY ASKED QUESTIONS
How Benefits Administration addresses complex business needs
Brokers don't have their own login to Paycom software. However, each client can choose to grant that access by setting a broker up as a Paycom user.
Through Paycom's Benefits to Carrier service, a client's benefits information is automatically and regularly transferred directly to the carriers.
Our intuitive benefits software makes it easy for clients to set up benefit plans and facilitate a seamless, automatic enrollment for their workforce.
For clients seeking even greater efficiency, our Benefit Enrollment Service dedicates a benefits coordinator to help develop an open enrollment game plan tailored specifically to a client's business. The coordinator also sets up plans and employee enrollment features within Paycom while facilitating conversations with third parties to gather plan and file feed data, all so clients don't have to. To assist with the end of the plan year, the coordinator reconciles enrollment and deductions to prepare clients for a perfect first payroll of the new plan year.
Yes. Through our mobile app's Employee Self-Service® tool, employees can easily update their personal information and report qualifying life events.
Paycom's efficiency and convenience are direct results of our single-software design, so even a process as complex as benefits enrollment is handled seamlessly within our Benefits Administration software. All Paycom tools are built by Paycom, at Paycom, so there is no need to integrate with third-party applications.
Yes. Information automatically flows throughout Paycom's single software, so an employee's benefits elections will be reflected in their payroll deductions.
With Paycom, it's easy for employees to see the full cost of each benefit, as well as test how deductions affect take-home pay before finalizing enrollment.
If clients wish to disclose the total cost of their benefits offerings, they can display that amount in our software's total rewards statement. However, clients also have the option of hiding the amount they contribute to the plan.
Yes, users have several options for batch actions to simplify the benefits enrollment process. These include the ability to perform rollovers and date changes for large groups of employees.
For all your HR management needs in a single software, request a meeting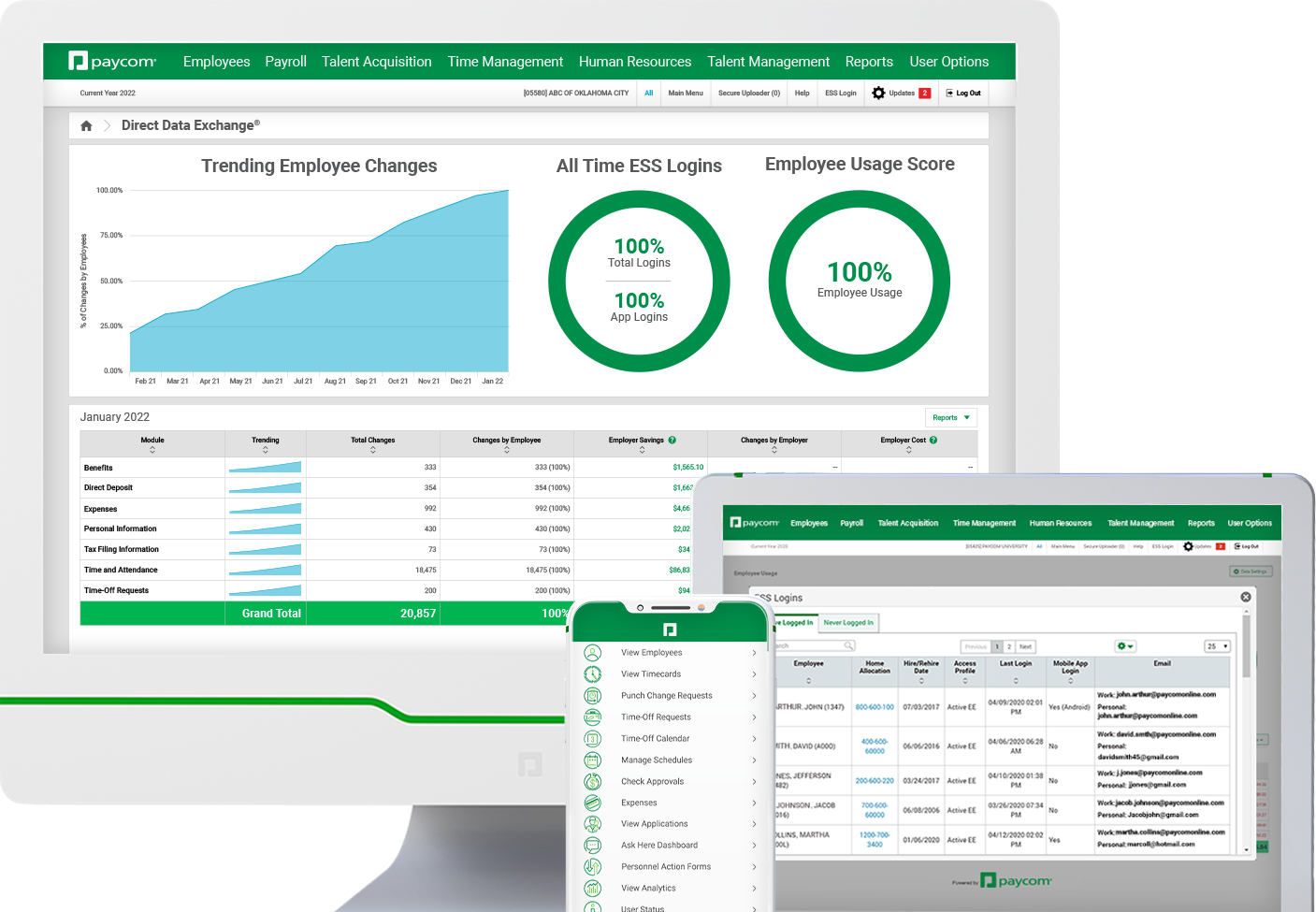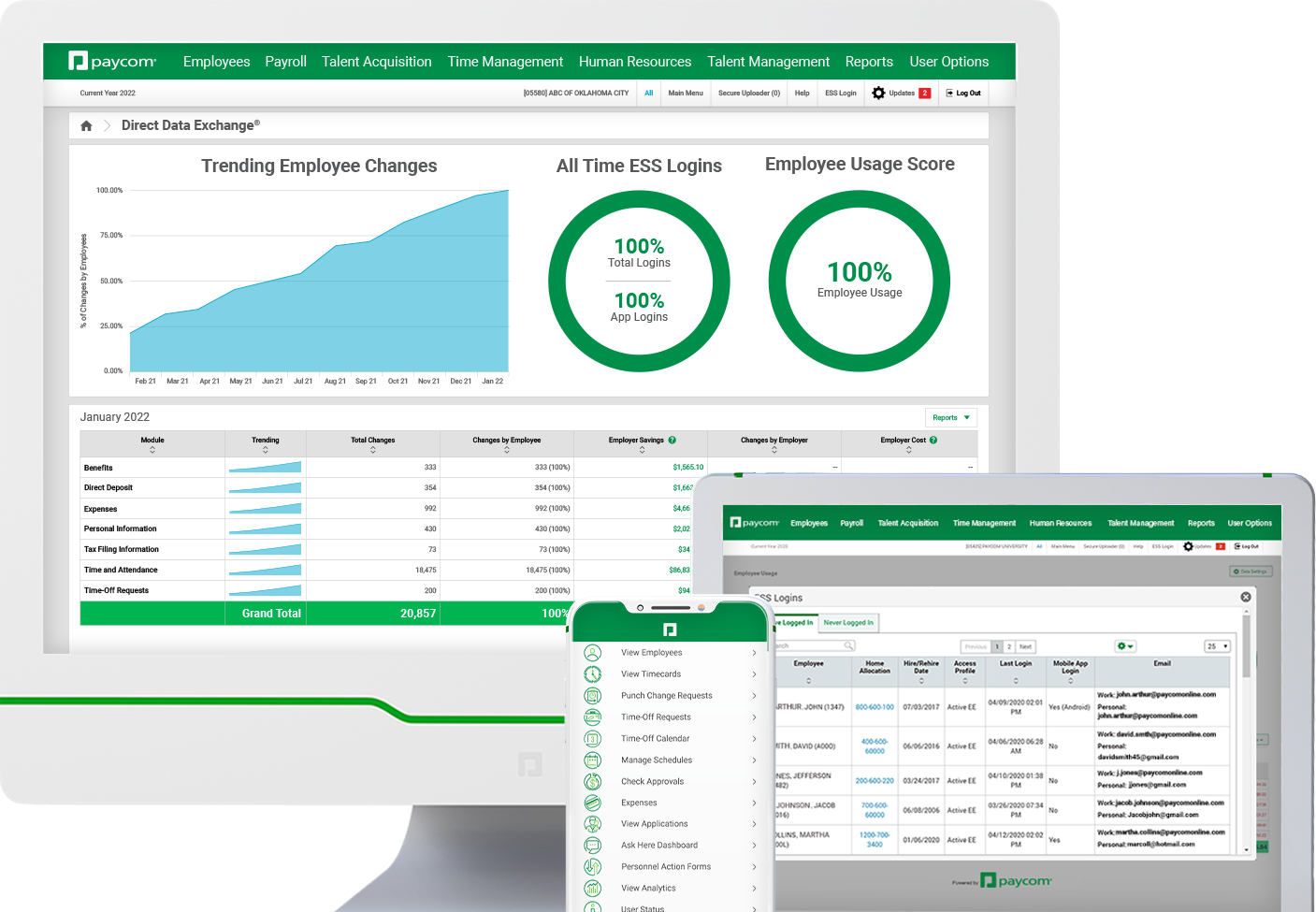 For all your HR management needs in a single software, request a meeting.