Performance Management
Complete employee assessments with performance review software for consistency, efficiency and less burden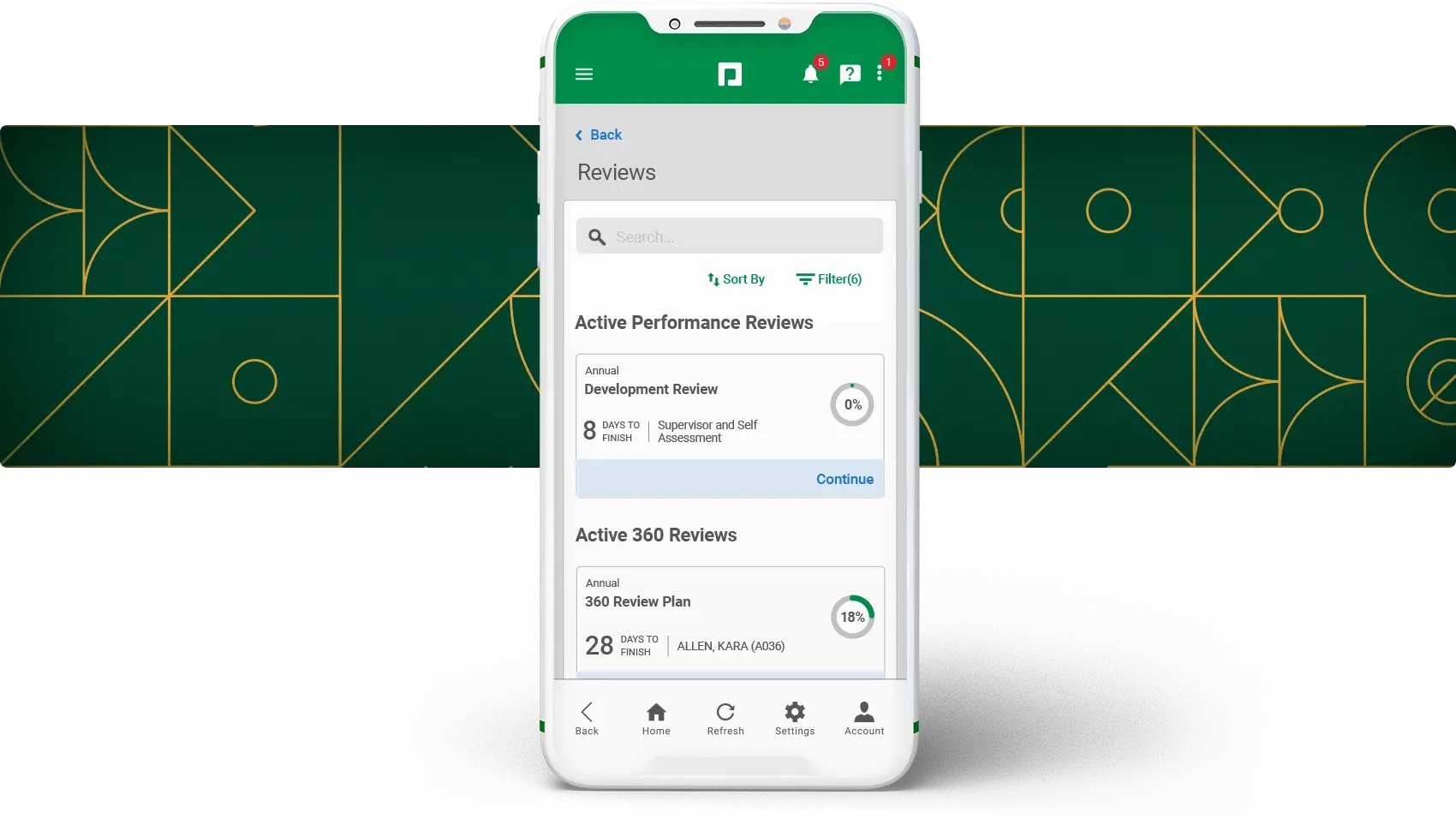 Unlock employee engagement with enterprise performance management software
With the support and structure of Paycom's Performance Management software, your organization's employee performance review process becomes easy and effective. Our HR performance management software houses all the documentation, resources and processes you need to offer a consistent system for evaluation. When you do, the productivity, development and engagement of your workforce rise.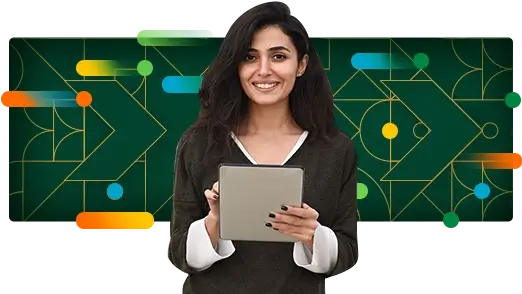 From self-reviews and manager reviews to 360 reviews, your workforce can easily complete them all within our employee performance management software. This also makes it simple for managers to gain peer feedback and learn what matters most to the employees they supervise.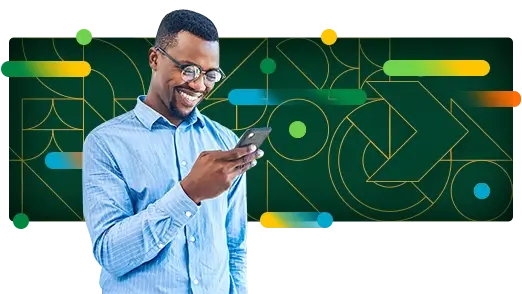 When employees know their goals align with the organization, they take greater ownership of their professional development. Performance management software systems should allow that; our mobile self-service app lets them set personal performance goals, track their progress and access their past and current performance reviews at any point during their tenure.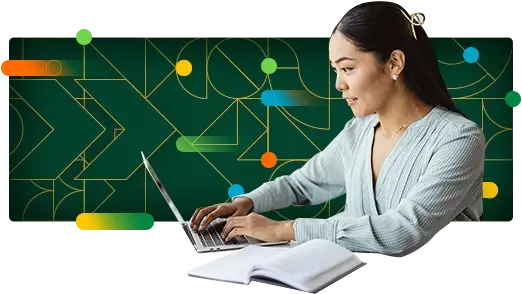 Accessing reports in our employee performance review software is a snap — and paperless! The enhanced dashboard provides an easily digestible view of action items and historical data across the organization. When new leaders join, getting them up to speed on past reviews is painless.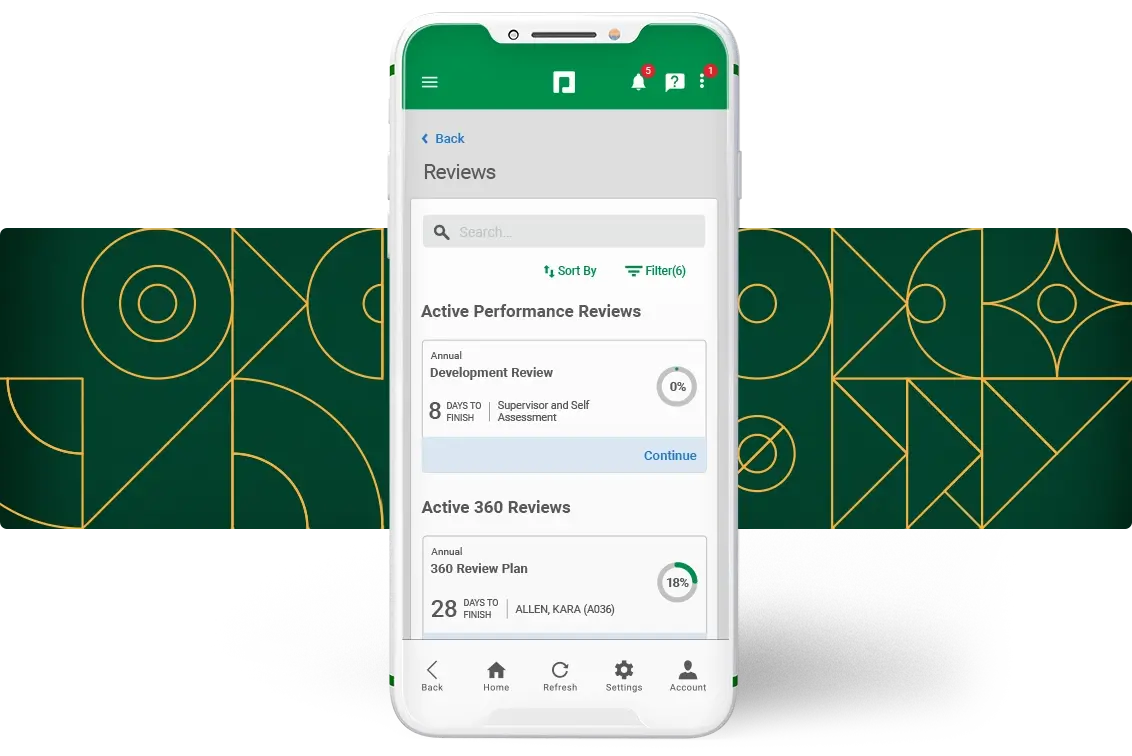 Managers gain performance review flexibility in functionality
group positions by similar skills and responsibilities
assign goals by position, department or individual
review timelines with assigned goals and weighted competencies
get digital signatures on appraisals for secure storage
establish sign-off tiers while maintaining final approval
add notes to employee records year-round
Performance Management WORKS WELL WITH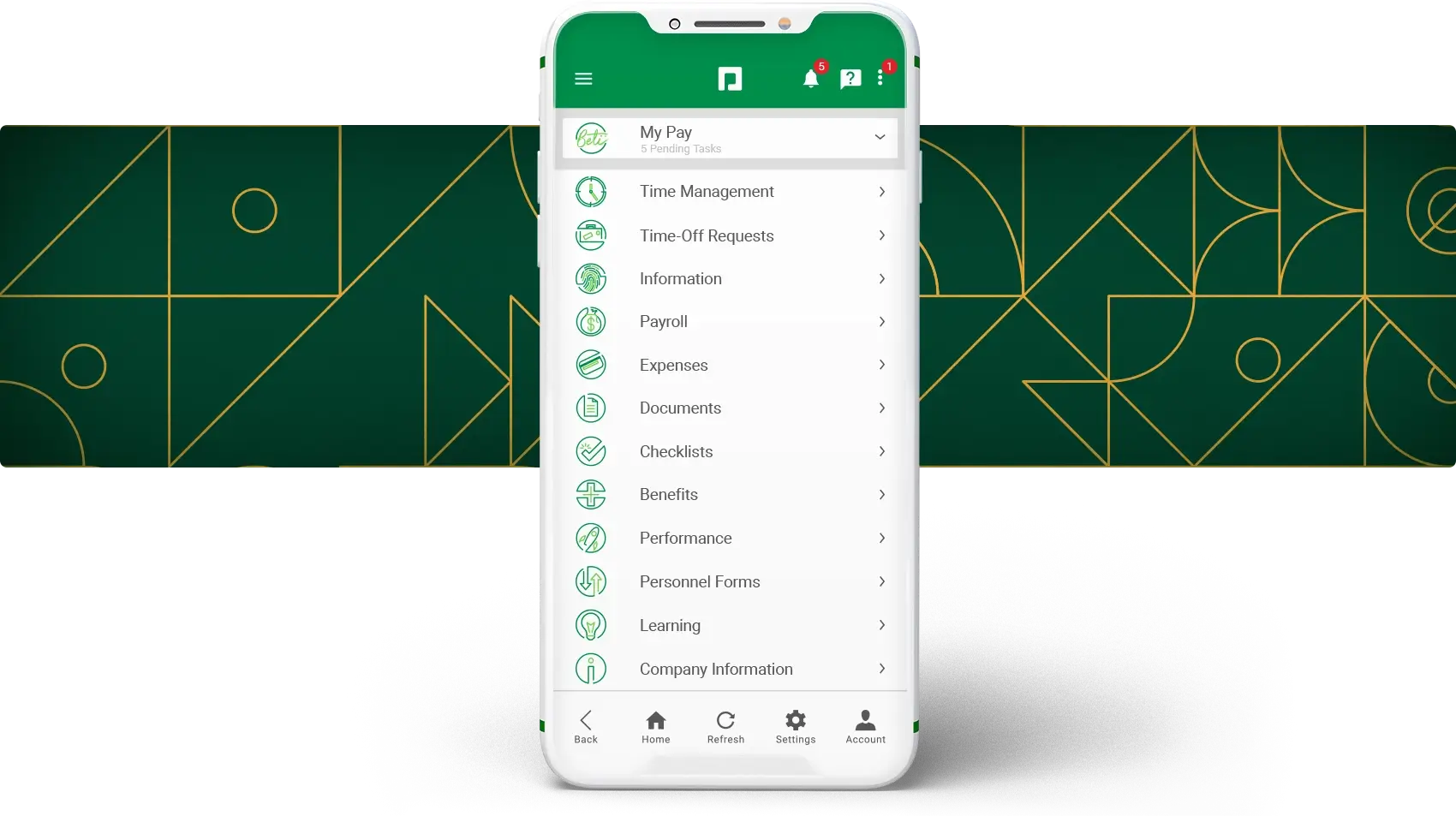 Reduce your burden and engage your workforce by directly connecting employees to their HR data.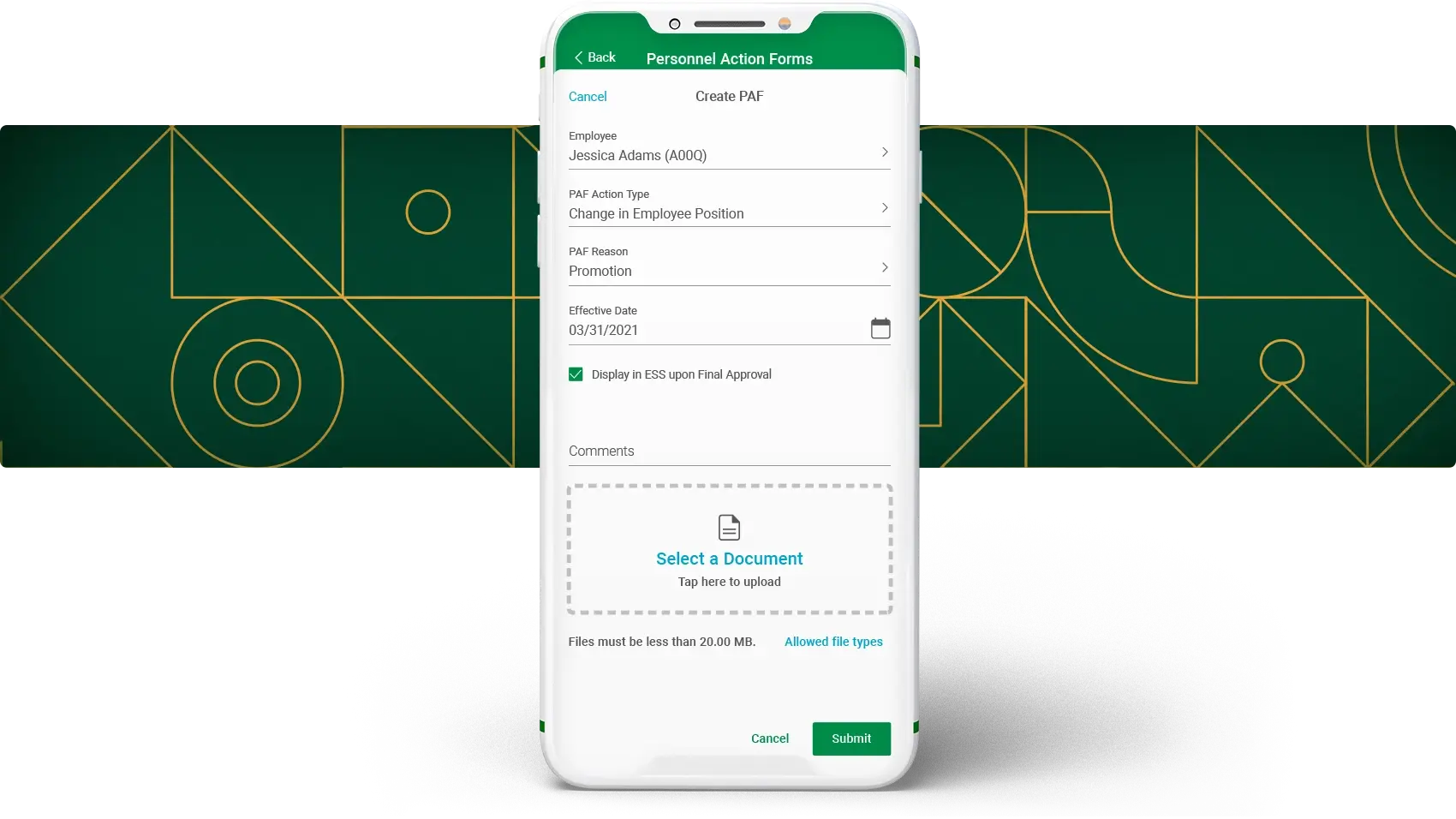 Enjoy a secure and efficient approval chain for employee payroll and HR changes with ePAFs.
Explore these resources for greater talent management insight
FREQUENTLY ASKED QUESTIONS
Explore the ins and outs of Performance Management
Yes, our performance review software includes employee self-assessments where employees can evaluate their professional development.
Yes. Within Paycom, managers can use Personnel Action Forms (PAF) when it's necessary to issue a formal warning to an employee. If a PAF is active during an open review period, it appears as a viewable PDF the client can complete during employee's performance review.
Working with their managers, employees can set personal goals as a way to chart their own development path.
Yes. An essential feature of Paycom's business performance management software is the ability for employees to easily see performance evaluations and monitor the progress of their development.
Yes. Within Paycom's Position Management software, competencies can be assigned to positions to clearly outline the necessary skills for a role or employee group.
During an employee review, clients can use a rating scale and drop-down selection to score each item. Clients are able to set up and assign the rating scales, as well as determine the weight of each score, for use in performance reviews.
Yes. Several performance reports are filterable through these categories. Incomplete performance, employee review item assignment, competency group assignment, performance appraisal and 360 review scores are just a few reports available in Paycom's HR performance review software.
For all your talent management needs in a single software, request a meeting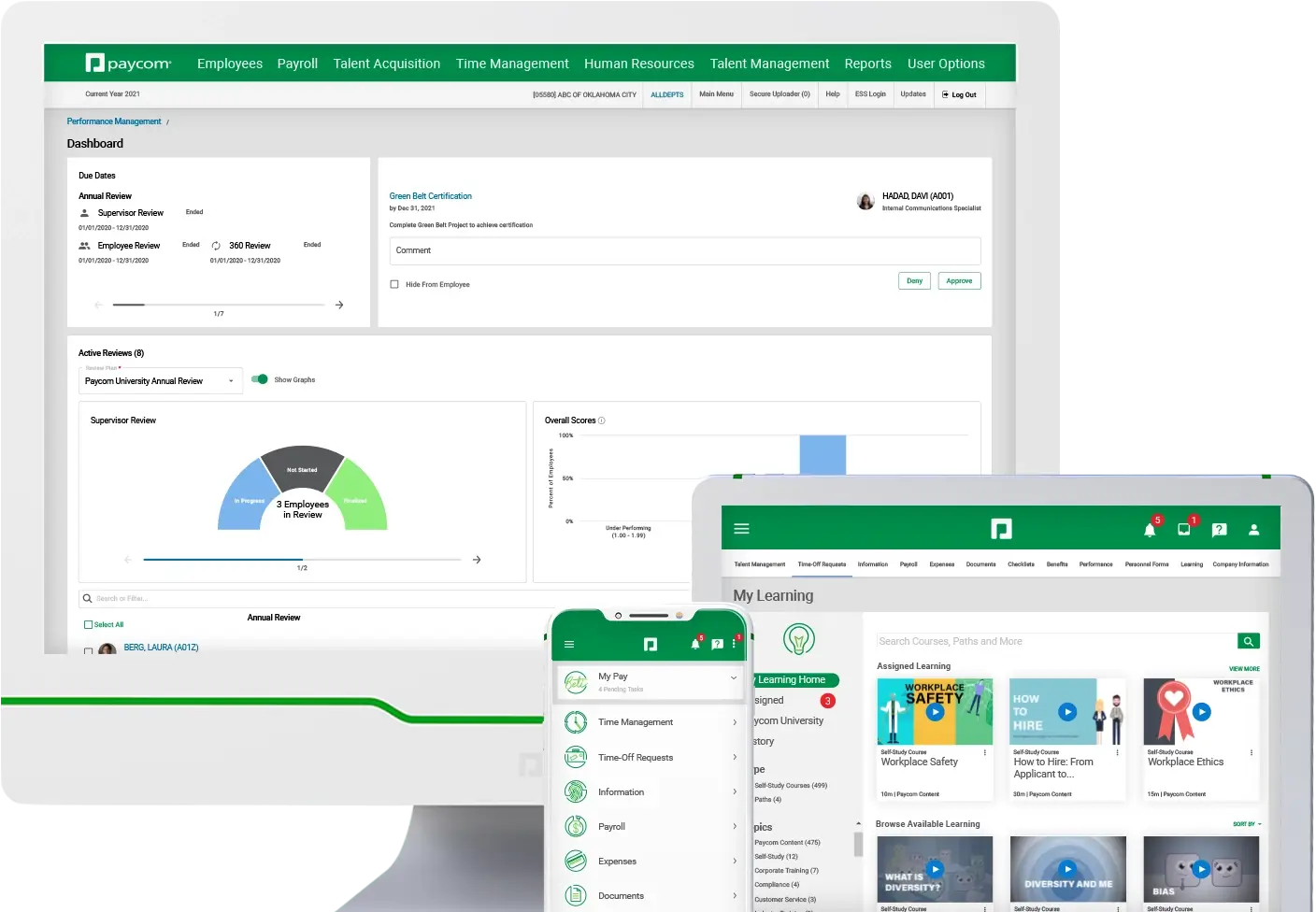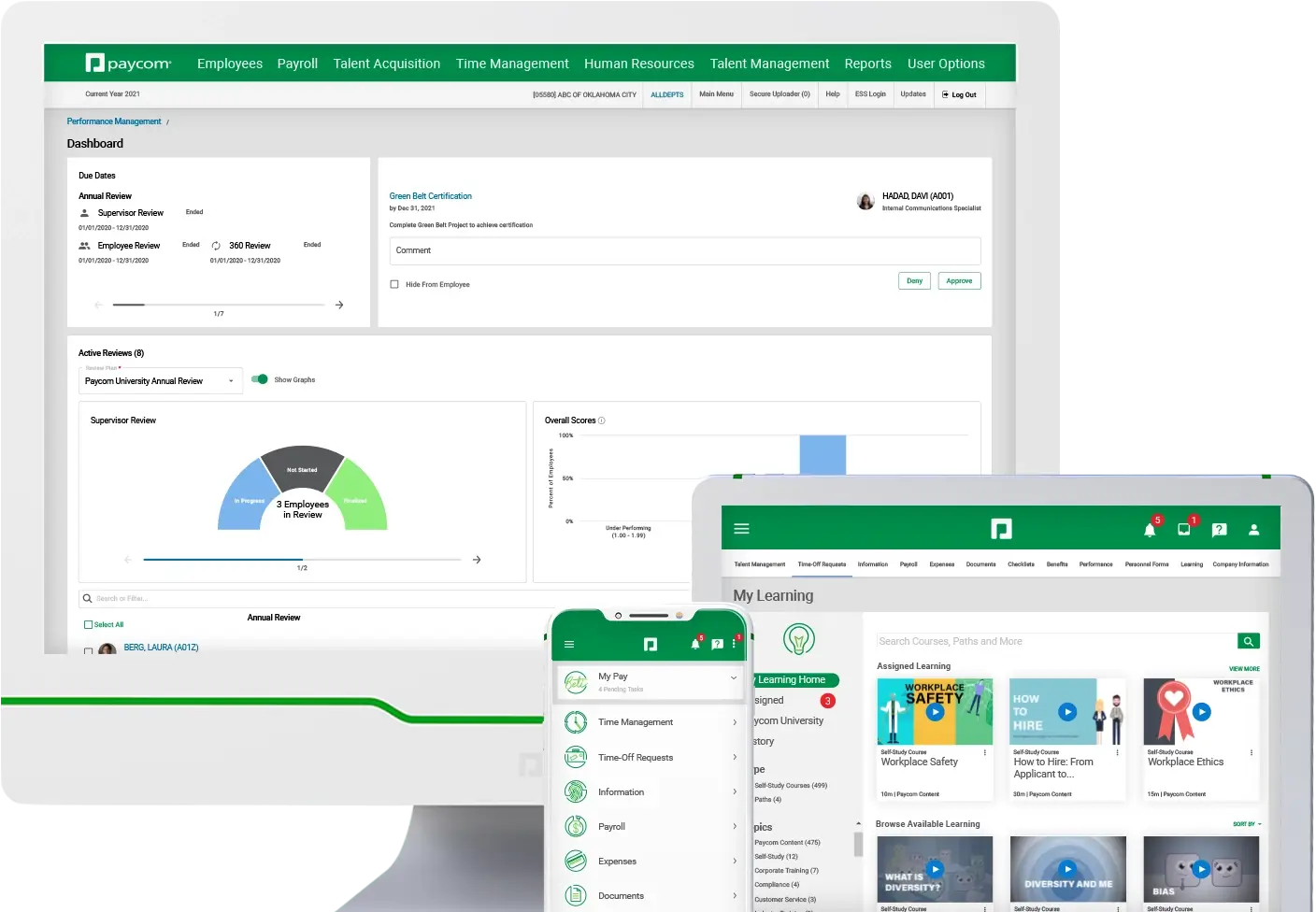 For all your talent management needs in a single software, request a meeting.