Talent Acquisition software
Comprehensive tools to find, hire and onboard top talent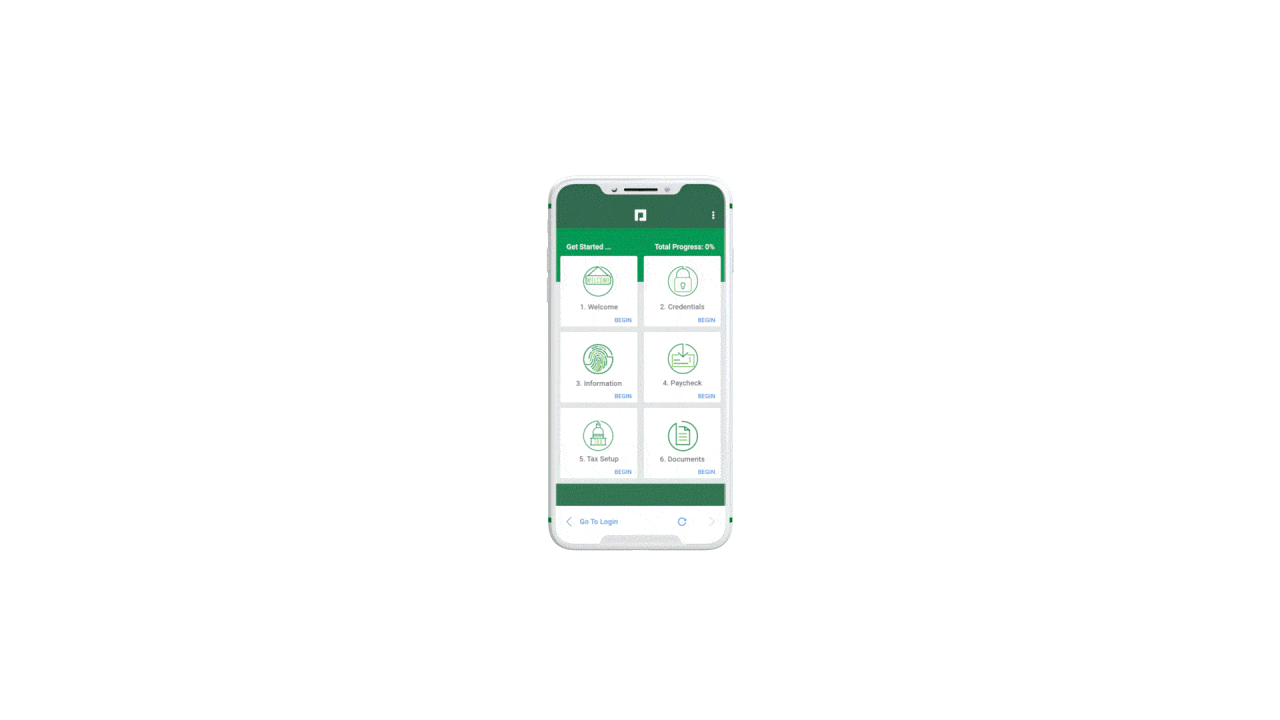 Automated hiring and staff management in one recruitment software
Paycom's Talent Acquisition tools streamline the recruiting, hiring and onboarding processes to keep the top talent you want from falling through the cracks. These tools help you exercise due diligence, ensure compliance and bring much-needed peace of mind. That's the power of one.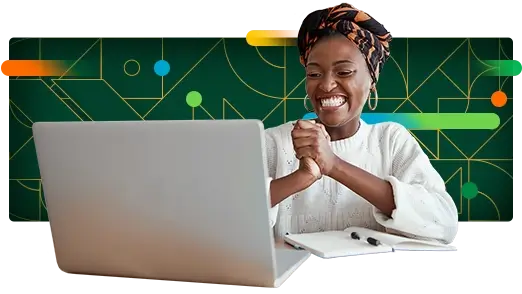 Tools like Applicant Tracking and E-Verify® help you reach the candidates you want and filter out those you don't, as well as instantly determine their employment eligibility.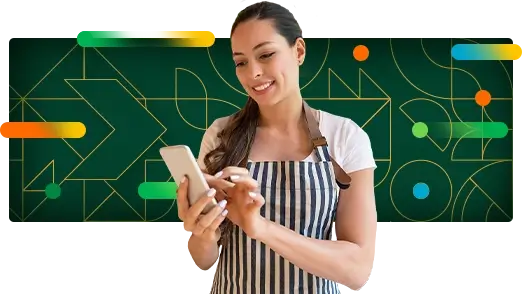 With our Talent Acquisition tools, new hires self-onboard before Day 1 so they can hit the ground running. With a seamless flow of information through our single software, no paper processes or data reentry is required.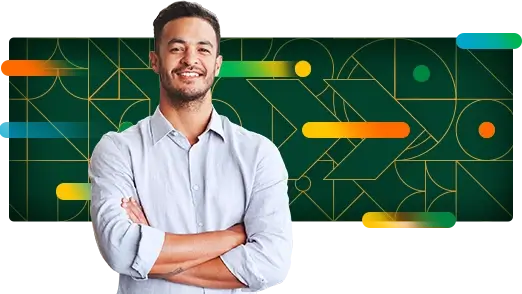 Tools like Enhanced Background Checks® offer a variety of drug testing and health screening services as well as comprehensive and customizable searches to verify criminal, education and employment histories.
TALENT ACQUISITION AT A GLANCE
HIRING AND STAFF MANAGEMENT SOFTWARE TO GIVE YOU A COMPETITIVE EDGE
Over 6.5 million Americans rely on Paycom's technology every year
"What [Enhanced Background Checks] does for me is it pushes all the work onto the applicant."
president
food manufacturing company
"All information gets populated from Applicant Tracking. We already have things autopopulated from the employee's application, so all HR has to do is select which checklist they need to do."
HR director
juice bar restaurant chain
"I spent probably 30 hours a month on onboarding. Now that just takes you a couple of minutes to assign it out whenever they start."
corporate safety director
construction service provider
FREQUENTLY ASKED QUESTIONS
Find out how our Talent Acquisition tools transform businesses
Much more than just an organization's hiring process, talent acquisition encompasses all the strategies, processes and systems a business uses for recruiting, hiring, onboarding and even retaining employees. The concept of talent acquisition looks forward, projecting the career path of potential employees against the needs of the organization to find and develop future leaders to help achieve long-term strategic goals.
Paycom's Talent Acquisition tools reinforce your compliance strategy by combining a single database of record with precise automation and employee data managed by the employees themselves.
These HR hiring software tools make it easy to stay on top of deadlines, meet record-keeping requirements and help comply with responsibilities surrounding:
Form I-9 documentation
Fair Credit Reporting Act (FCRA) regulations
Equal Employment Opportunity Commission (EEOC) laws
immigration and visa requirements
With easy-to-retrieve documentation and the accuracy of employee-entered data, you'll be able to mitigate compliance risk and satisfy the demands of employment-related audits.
Our employee hiring software tools differ from other solutions thanks to the efficient, accurate performance that comes from working seamlessly within Paycom's single software.
Before posting a new opening, position attributes can be automatically assigned to each job, improving the applicant experience and helping satisfy your compliance requirements. Open positions automatically post to top job boards to reach the largest possible audience. When you've caught the attention of top talent, they'll apply directly through our software.
You'll follow candidates through a single dashboard as you manage interviews, pre-employment screenings and more. When you've made the decision to hire, the candidate's personal data automatically flows through Paycom's single software, eliminating data reentry.
Mobile-friendly self-onboarding helps your new hires get started faster as you digitally assign forms, training and checklists for them to complete before Day 1.
From that initial job posting and all the way through the employment life cycle, Paycom's single software also provides a single conduit for communication that connects recruiters, HR, managers, leadership and employees. With a clear path that facilitates communication, organizations can more nimbly and effectively address their HR needs.
With Paycom's Talent Acquisition tools, your HR team more effectively identifies and engages the talent you need as they spend less time rekeying information and onboarding new employees. You'll hire confidently and effectively with reductions in time-to-fill for open positions and ramp-up time for new hires, all while freeing your HR department to pursue high-level strategic goals.
For all your talent acquisition needs in a single software, request a meeting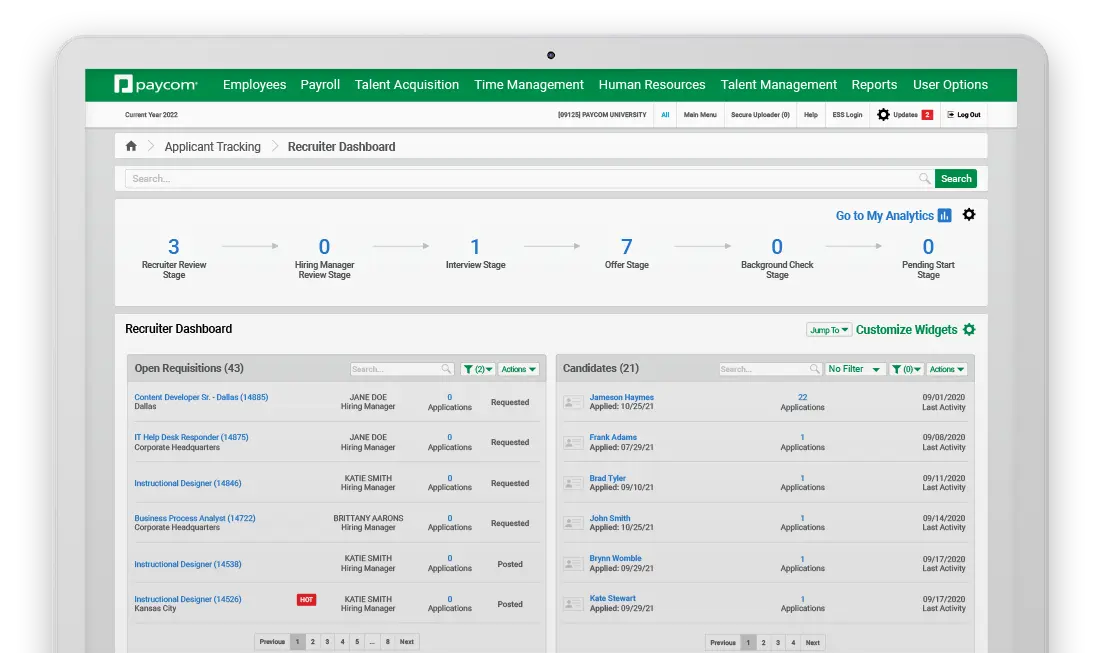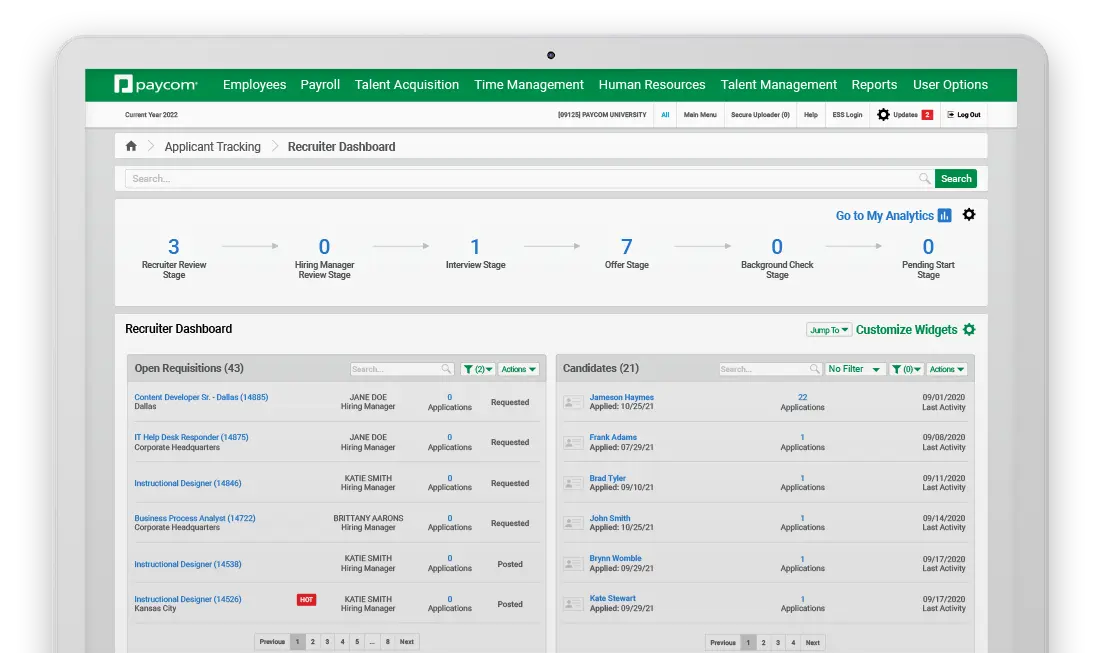 For all your talent acquisition needs in a single software, request a meeting.