For businesses requiring employee vaccination and testing data, Paycom's Clue® helps you securely collect, track and manage that information so you're clued in for your entire workforce.
All in our single, easy-to-use app, Clue has the functionality you need to help ensure compliance and navigate this challenge.
Accessible anywhere, anytime through our Employee Self-Service® tool, Clue allows your workforce to easily, quickly and securely enter their vaccination or testing information. It also provides automatic reminders to help affected employees stay on top of any testing requirements.
Customizable reporting
Clue's insightful dashboard provides a single, intuitive location for all the information your team needs and actions that need to be taken. And through the power of predefined and customized reports, your HR team is able to better prepare itself for a possible audit. Clue even enables you to customize fields to meet your business's specific needs.
By default, included reports cover:
vaccine type
vaccination status
first and second vaccine dose recipients
booster recipients
lost vaccination cards
test status
test types, dates tested and results
HR reviewers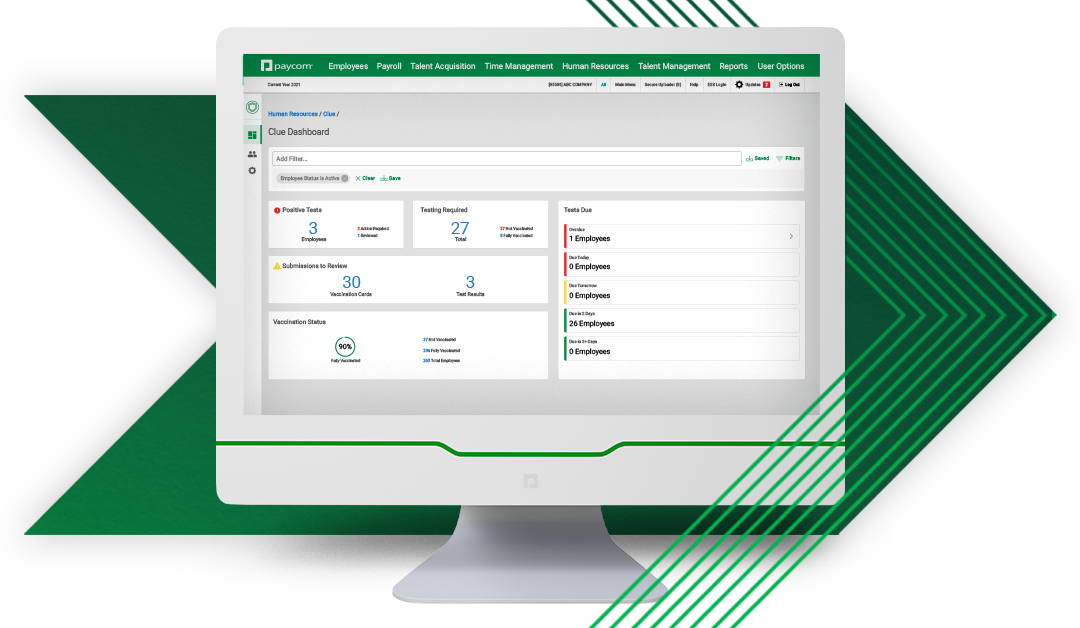 Powerful insight
By tracking the percentage of your fully vaccinated workforce, real-time test results and upcoming testing deadlines, Clue allows HR to monitor and analyze employees efficiently and thoroughly while enabling a quick response in the face of a positive case. HR is also able to verify or deny any vaccination or test submissions and may even send push notifications to instantly notify an employee of possible discrepancies.
Clue's dashboard also offers versatility, giving HR the ability to test schedules and exclude remote employees from the testing cycle. They may even add Form 3 exemptions for medical and religious accommodations.
Best of all, this tool works seamlessly with the rest of our single software, such as Ask Here, Government and Compliance, Paycom Learning and Documents and Checklists.
Learn more about how Clue helps your business stay safe and compliant here.
DISCLAIMER: The information provided herein does not constitute the provision of legal advice, tax advice, accounting services or professional consulting of any kind. The information provided herein should not be used as a substitute for consultation with professional legal, tax, accounting or other professional advisers. Before making any decision or taking any action, you should consult a professional adviser who has been provided with all pertinent facts relevant to your particular situation and for your particular state(s) of operation.