Comprehensive supply chain payroll and HR software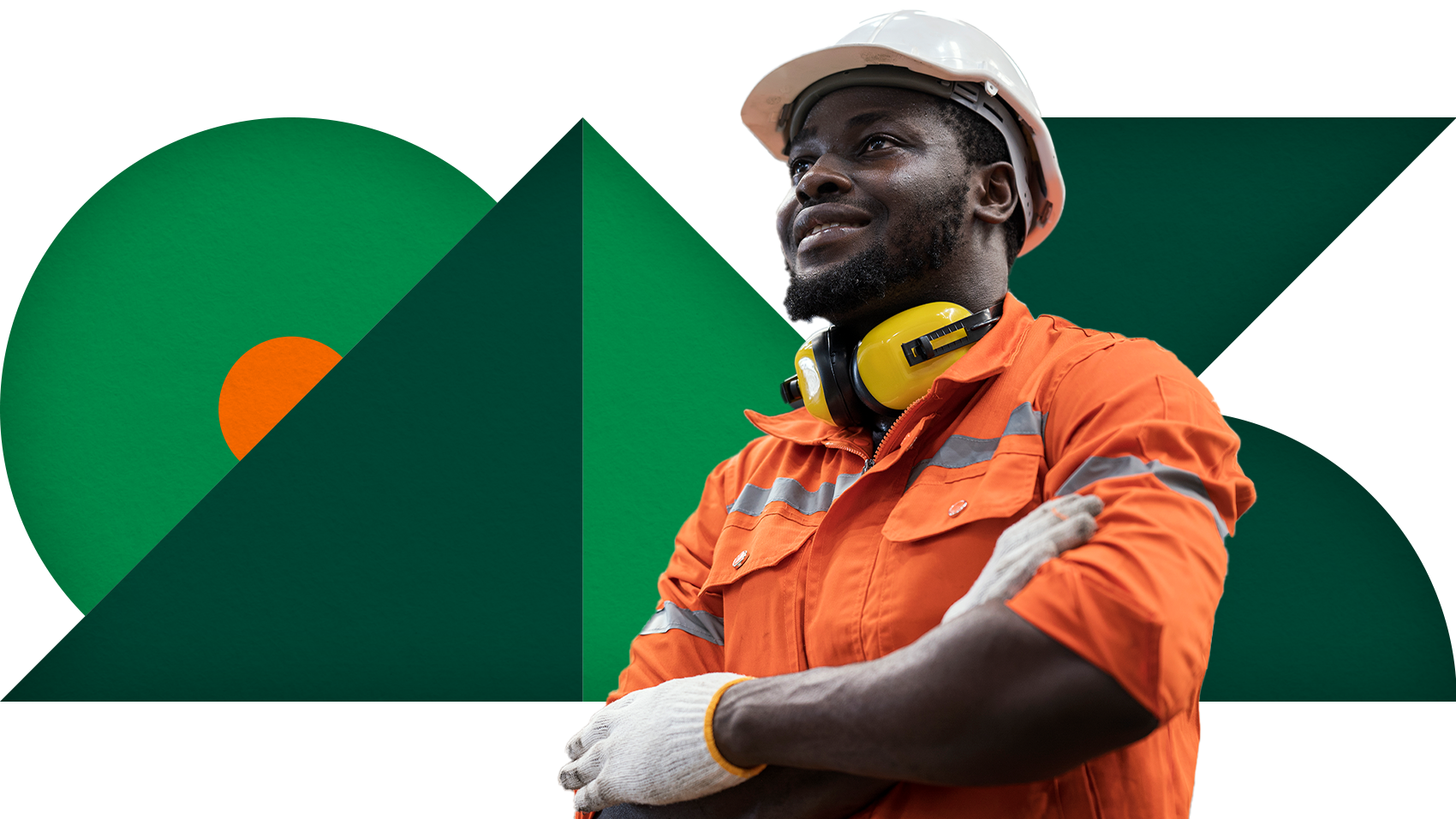 800,000+ 5-star reviews on App Store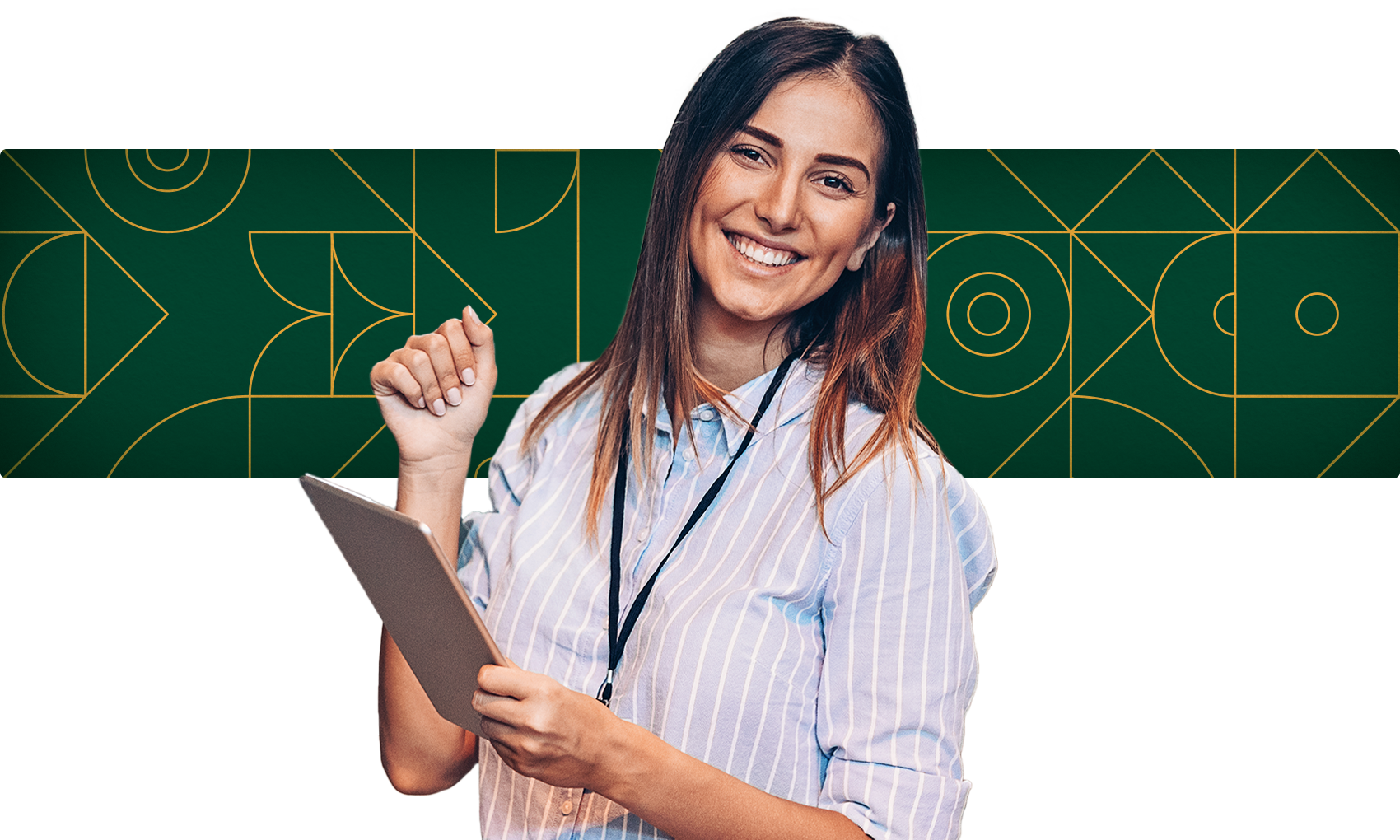 Real-Time Supply Chain Data Tracking
Your Bottlenecks:
Poor employee engagement due to clunky, glitchy or complex systems failing to support your mobile workforce
Overly manual scheduling processes that waste valuable time resources
Using several disjointed systems to track performance, perks, tools and PPE
Different manual onboarding processes with external checklists for multiple job functions
Difficulty tracking and maintaining required health and safety data
Conventional online recruitment methods not attracting the right candidates
Paycom's Solutions:
Our self-service mobile app addresses your employees' and managers' needs, including work time and mileage tracking, payroll self-service, biometric or PIN login and mobile manager approvals.
Quickly and accurately bulk-assign shifts to multiple employees.
Our single software includes HR tools for performance management and benefits administration, plus custom tables and fields to track and report on assigned inventory.
Automated, role-based onboarding checklists and workflows tie to criteria such as department, job title, work location or other employee fields.
Easily track and report on safety training, required licenses and certifications, and drug screening and physical results in our single HR software.
Our versatile applicant tracking system has built-in text message-based workflows to reach supply chain candidates via their preferred method.
ADVANCED PLANNING AND PAYROLL FOR LOGISTICS EMPLOYERS
How Paycom helps with supply chain payroll and HR management
Paycom's comprehensive HR and payroll software delivers first-rate workforce management solutions for industrial supply chain customers in transportation, distribution, manufacturing, and oil and gas. Our specialized support representatives know your industry and the needs of your business and workforce. Let Paycom show you how our solution helps you avoid wasting time and resources, maximize workforce planning and increase operational efficiency. Leverage our best-practice software configuration and workflow automation to free your talented team members to do what they do best: improve operations, increase revenue and serve your customers!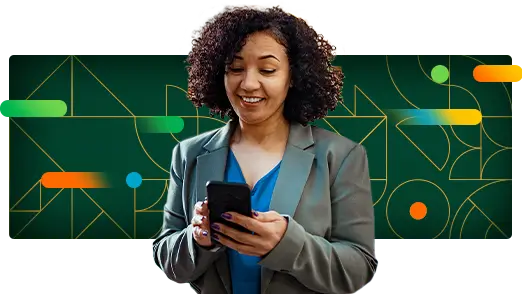 Empower workers to review and approve their own drafted payroll before submission. With Paycom's employee-guided payroll, Beti, you'll reduce errors to avoid unwelcome surprises.
Pay hourly, transportation and logistics employees according to industry best practices and wage and hour laws.
Automatically assign role-based regular, differential and overtime pay types and rules. Align role-based pay rules with the Motor Carrier Act and FLSA.
Track and report on employees' assigned vehicles and equipment via custom inventory fields.
Reimburse employees for company-specific expense types, like mileage, lodging, tools and work boots. Approved expenses flow directly to payroll with the correct tax treatment.
Provide managers visibility into pending payroll-critical tasks, such as pending personnel action approvals.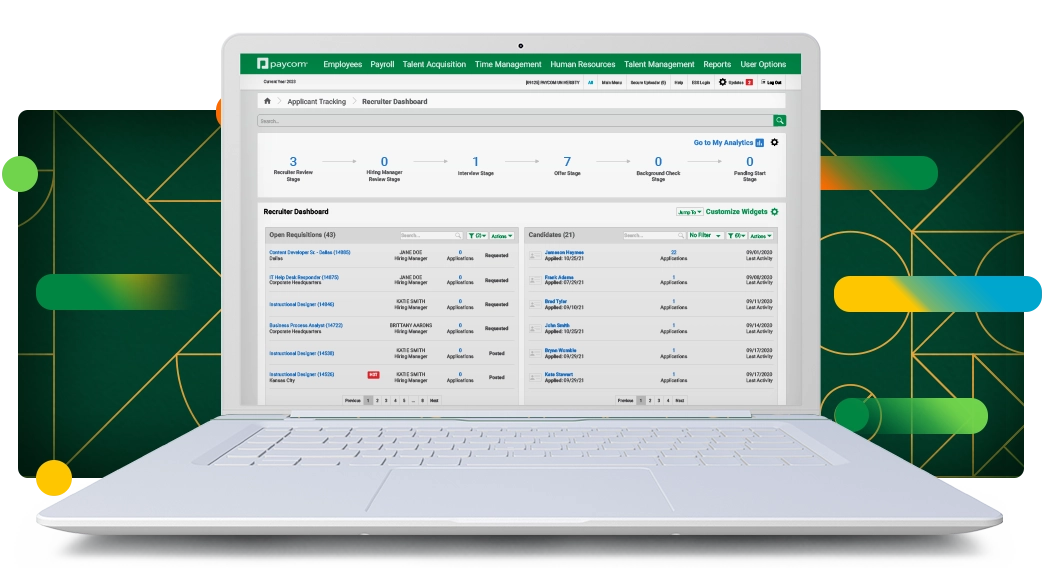 On-time delivery of your top-pick candidates with smart application, interview and hiring workflows.
Reach workers directly and increase candidate engagement with text message- based recruiting.
Instantly post to free and niche paid job boards via our effective applicant tracking system (ATS).
Keep track of candidates' statuses, automate email and text communications, and tie questionnaires to specific jobs and hiring workflow stages.
Report on critical job-required criteria like CDL licenses and heavy equipment operating certificates.
Capture critical operations metrics, including cost per hire and time-to-fill open positions.
Report on candidate sources, including external recruiters and employee referrals.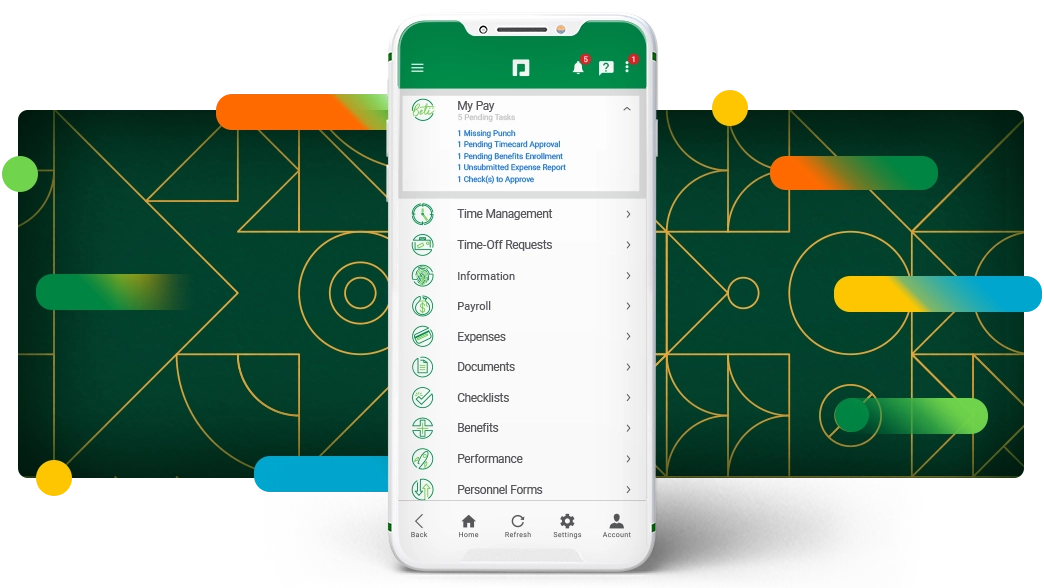 Offer your employees enhanced flexibility and ease of access to their personal and work information with Paycom's Employee Self-Service mobile app.
Whether via desktop or via the mobile app, employees may readily view, edit or request changes to their personal, tax and banking information.
Optimize your hiring process by allowing new hires to remotely and securely complete required onboarding paperwork before their start dates.
Let employees clock in, request time off, view company holidays and team schedules and access company resources— all from their mobile device.
Get employee questions answered quickly with Paycom's Ask Here tool; Publish FAQs for team members to access at their convenience, and route employees to the right internal resources to answer their work-related questions.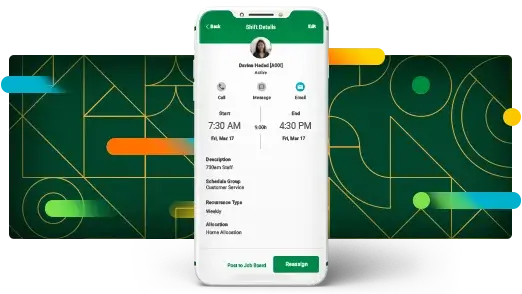 Optimize scheduling for your operations with reports on labor allocation, cost and forecasting.
Paycom's transparent scheduling tool offers employees visibility into available shifts, company holidays, their own approved time off and team members' schedules. It allows them to swap shifts or claim open shifts.
Incentivize less desirable shift work with built-in shift differentials that flow straight to payroll.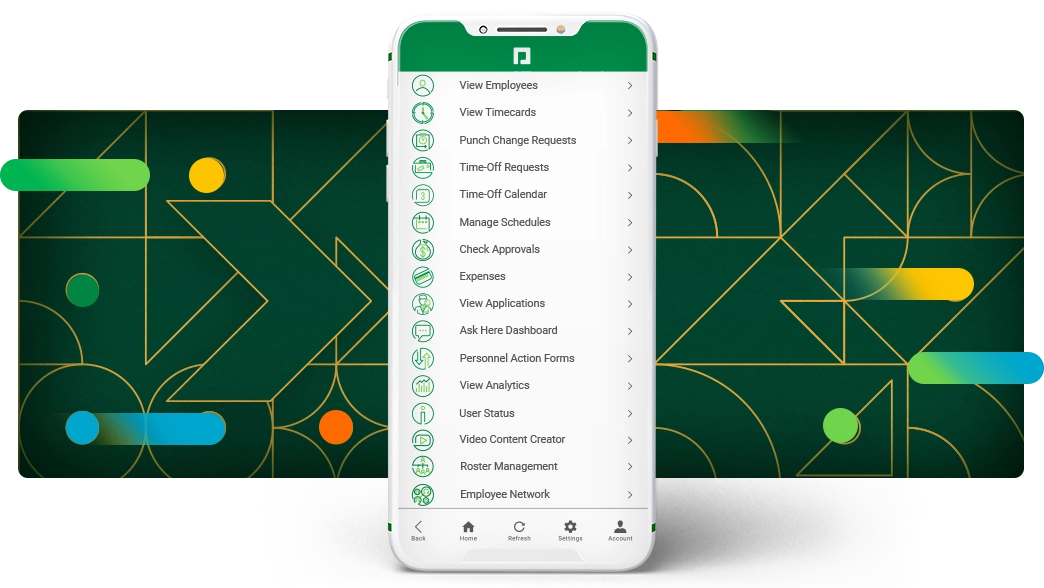 Free up front-line managers to oversee field operations and travel between worksites with our mobile employee management app.
Enable your management team to complete essential people management tasks remotely from anywhere in the world.
Allow managers to approve timecards, time-off and expense requests and manage their team's schedule.
Leverage Manager on-th-Go's 24/7 access to issue timely approvals and keep operations running smoothly.
Keep hiring managers engaged with candidates via the mobile app's View Applications feature.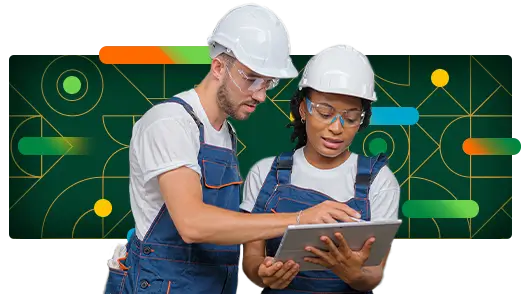 Hire safely with required MVRs, DOT drug and alcohol tests, and DOT physicals, ordered right from Paycom's built-in pre-employment module.
Use Paycom's role-based onboarding checklists to assign, order and track background check tasks, statuses and results.
Set reminders for employees and managers to renew expiring credentials like their forklift certification or driver's license.
Stay OSHA-compliant with built-in accident, injury and illness forms and other important documents.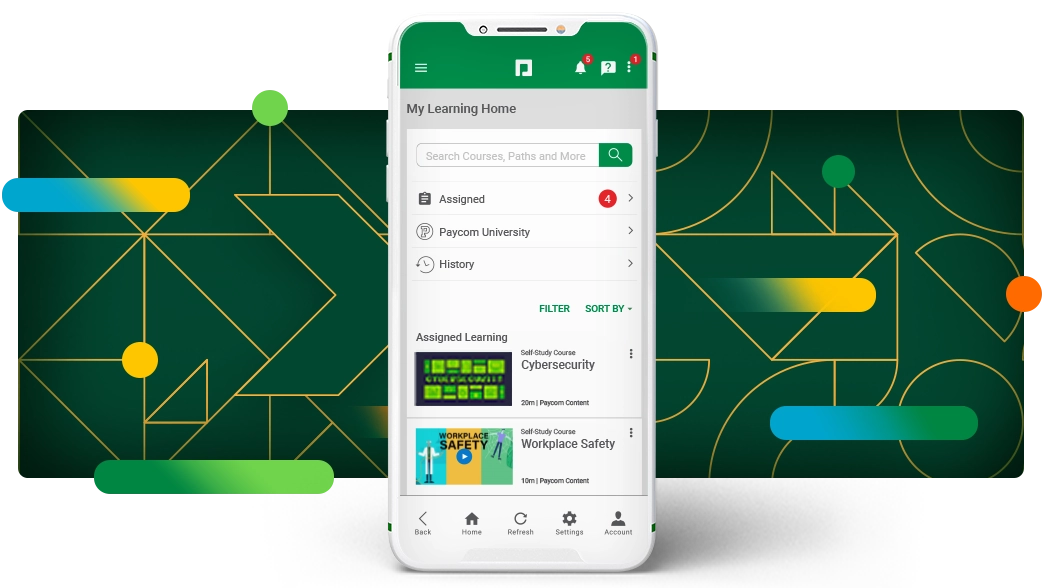 Purchase course content subscriptions that meet your safety training needs through Paycom.
Import specialized SCORM-compliant training content or link your training workflow to external training resources.
Automatically issue training certificates upon course completion, and report on incomplete training status.
Leverage custom fields to track CLTD, Lean Six Sigma and other professional certifications and continuing education credits.
Measure training ROI by collecting training feedback, comparing training and performance metrics and reporting on training costs by course, department or employee.
"We're trying to attract the next generation into the manufacturing environment, and we've had success utilizing tools like Paycom to modernize what we're doing and appeal to a more tech-friendly demographic."
—CEO, manufacturer
"The user interface was the decision-maker for me. It was all about the ability to follow through and see information easily."
—HR director, manufacturer
"Our previous provider had an app, but it wasn't user-friendly. Paycom is a better experience for the employee. They find it easier, especially driving from property to property, to input stuff via their phone."
—controller, property management company
"We went from paper-based everything to now everything runs through Paycom."
—risk and safety manager, construction contractor
"Being able to utilize the tools we have in Paycom to have HR and ops meet in the middle — that's definitely the most notable impact."
—CEO, manufacturer
Industry resources for supply chains
Download these resources for greater HR and payroll insights
FREQUENTLY ASKED QUESTIONS
Learn how Paycom helps your business
Yes! In addition to Paycom Learning, customers may purchase specialized training such as basic OSHA compliance training. Because Paycom Learning is training SCORM-compliant, importing external training content (including quizzes and videos) is as simple as uploading a file. You may upload and provide required OSHA posters, notices and forms through our document management tool.
Paycom allows you to track and report on supply chain employees' labor allocation and costs by job, department and work location. Custom ERP-compatible reports are available on demand to export this insightful data simply and efficiently.
You can tie different training and onboarding workflows to specific departments, work locations and employment statuses. For example, you may have training assigned only to clinical staff members who work in California.
Our Enhanced Background Checks® include FCRA-compliant new hire communications, quick turnaround times and a la carte screening options, from criminal and sex offender lists to DOT physicals and drug screenings.
Yes! With Paycom, you can track different supply chain-related expenses, like mileage, lodging, vehicles, equipment, etc.
No. Once payroll expenses are approved, they automatically flow to payroll with correct tax deductions before being paid out.
Our single software allows you to easily track and report on employees' assigned vehicles and equipment via custom inventory fields.
With Paycom's ATS, you can generate custom links and push the job posting to supply chain/tech-specific job boards.
Yes! Paycom keeps updated with wage and hourly laws and industry best practices to help you stay compliant with paying your employees. Paycom also helps you stay compliant with the FLSA.
Paycom's payroll software, Beti, is an employee-guided payroll experience that automatically flags payroll errors, then leads employees to fix them before submission. Their review and approval of their own payroll significantly increases accuracy, because they know their pay better than anyone.
As an HCM solution, Paycom's smooth and efficient transition — from posting the job and conducting interviews to onboarding, training and then payroll management — increases the value of the employee experience at your company, which ultimately helps you retain the best talent.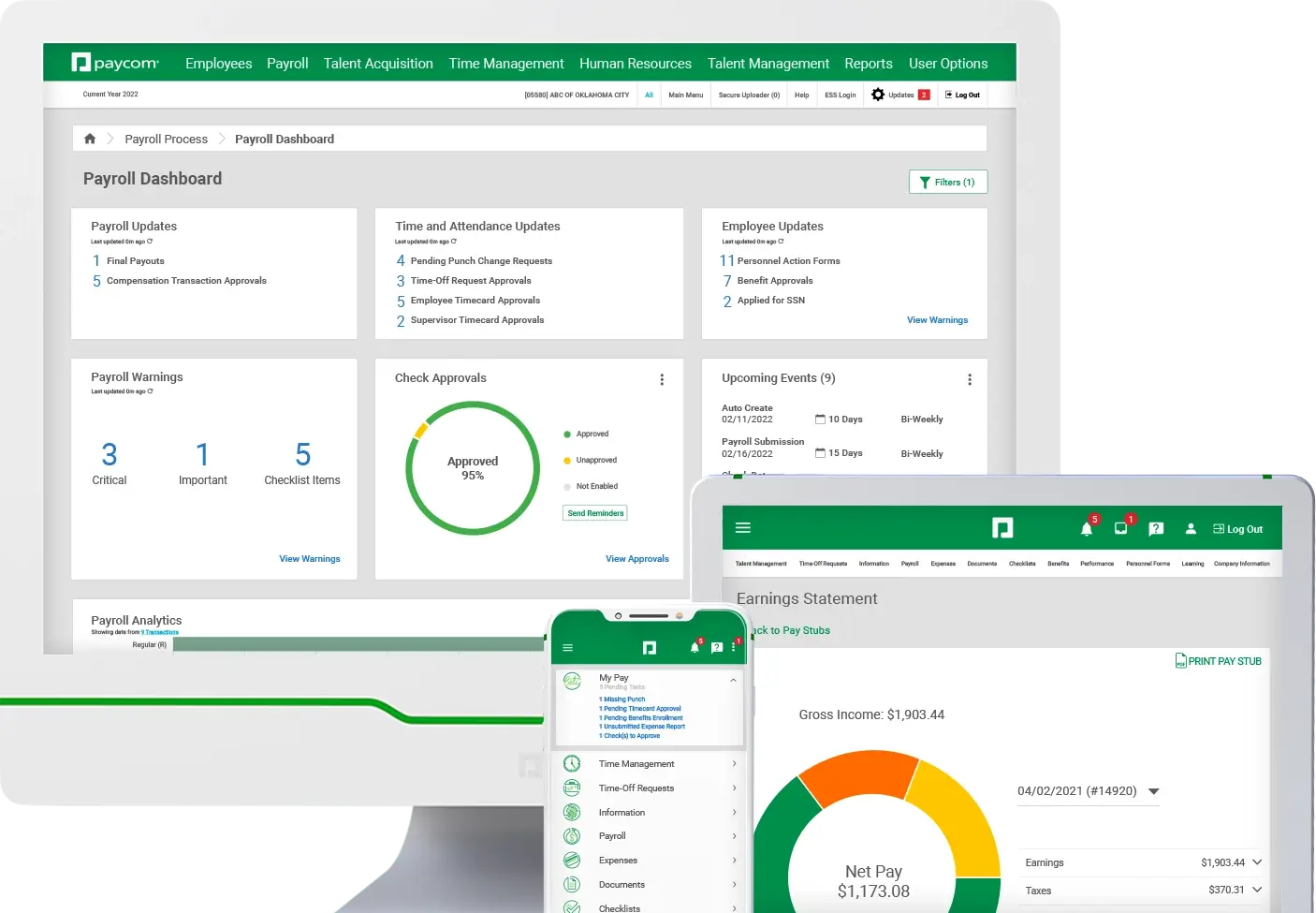 For all your payroll needs in a single software, choose Paycom.