Is your business caught in the middle? Maybe you've passed 100 employees but aren't quite an enterprise? You've enjoyed some wins, and now you're ready to take your success to the next level. You likely have more resources than when you started, but you're not free from compliance concerns.
Issues affecting startups are distant memories to your operation. Now, you face a new world of challenges related to:
taxes
audits
health care coverage
employment laws
But these obstacles aren't insurmountable, nor do they have to hinder ongoing success. With the right preparation, even small human resources teams can approach compliance proactively and with confidence.
Why is HR compliance important for businesses with over 100 employees?
Company size doesn't ease HR compliance; it alters it. While a smaller organization has fewer employees to monitor, a single labor law violation may hit it harder. In contrast, a large business's staff creates potentially higher vulnerability.
According to recent data from the U.S. Census Bureau, over 105,000 businesses employ between 100 and 999 people. These midsize companies feel pressure from both ends of the HR compliance spectrum. Each has its own set of unique challenges, but all of them should consider:
data privacy
benefits regulations
documentation issues
inconsistent policies
penalties for noncompliance
With so much at stake, midsize businesses can't rely on outdated, insecure, paper-based processes. The right HR compliance software and self-service technology help adhere to federal and local laws by:
automating data flow
generating insightful reports
monitoring legislative updates
empowering employees to manage their information
scaling with a business's needs
In the evolving compliance landscape, an organization's HR tech must adapt to new guidance and challenges. Anything less won't help sustain your ongoing success.
What laws and regulations matter to midsize businesses?
Compliance varies across industries and local governments. HR professionals should consult the applicable resources for these requirements.
Still, there are national rules relevant to businesses with more than 100 employees. Here are five of the most common:
1. EEO-1 Component 1 Report
This report annually requires midsize businesses in the private sector to provide specific data about their workforce, including:
staff size
job categories
race/ethnicity
sex
Information about when EEO-1 reports are collected each year is available on the U.S. Equal Employment Opportunity Commission's website.
2. Worker Adjustment and Retraining Notification Act (WARN)
WARN requires midsize businesses to give their employees a 60-day notice about mass layoffs and certain plant closings. Employers aren't required to provide notice to workers who have worked less than six months in the last year or less than 20 hours a week.
Because WARN isn't exclusive to manufacturers, HR professionals and managers should verify with the U.S. Department of Labor if their workplace is covered.
3. Family Medical Leave Act (FMLA)
FMLA allows certain employees to take unpaid leave for family and medical reasons without losing their health care coverage. Some qualifying events are:
childbirth
adoption or foster care
serious health concerns
dependent health emergencies
military orders
Since its introduction in 1993, FMLA has changed a lot. Plus, most state governments have legislation inspired by the act. Midsize businesses need to juggle both as their operations scale.
4. Fair Labor Standards Act (FLSA)
FLSA sets requirements for:
minimum wage
overtime
hours worked
recordkeeping
child labor
Similar to FMLA, local authorities may enact their own rules regarding FLSA, especially around minimum wages. Additionally, the Department of Labor regularly raises the cost of penalties for noncompliance, even if the requirements stay the same.
5. Consolidated Omnibus Budget Reconciliation Act (COBRA)
COBRA allows employees and their families to temporarily keep their health insurance due to:
involuntary job loss or change
reduced hours
divorce
death
other life events
While employees are still required to pay their premiums — up to 102% — qualifying events allow for coverage extensions of up to 36 months.
One of the biggest challenges of COBRA compliance is knowing when an employee qualifies and how they should be notified. Automation helps growing businesses avoid COBRA's bite.
How do I keep my midsize business compliant?
With so many laws — and even more penalties — compliance can't be an afterthought. HR professionals have to consider not only current legislation, but upcoming trends, too.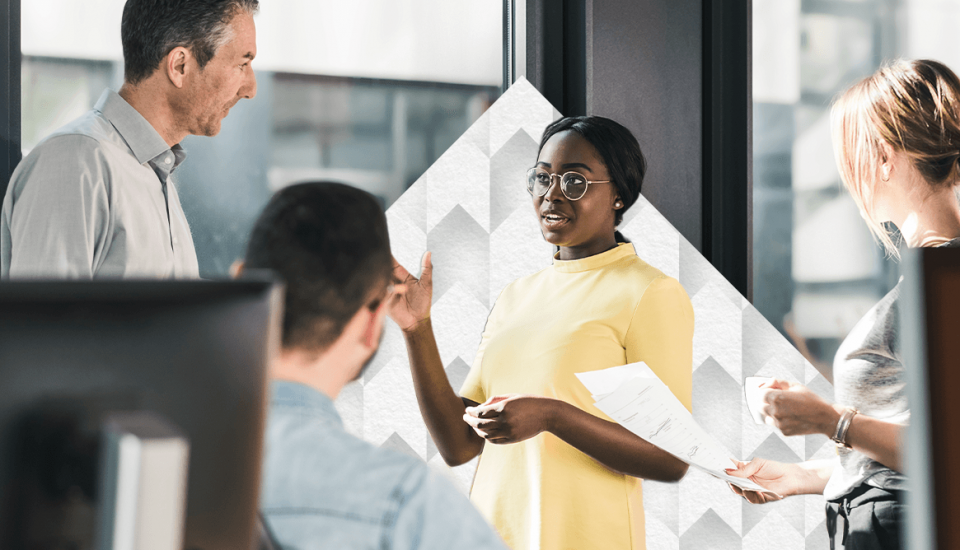 Luckily, the right tech keeps HR teams from constantly interpreting endless legal text and stressing over compliance woes. Here are three ways to stay compliant:
1. Monitor
It's not hard for federal laws to feel overwhelming, especially if they're susceptible to change. But the right strategic framework makes it easier, especially when it's supported by effective software. Look for a tool that monitors national and local updates for HR compliance peace of mind.
2. Mitigate
The risk of violations, audits, penalties and subsequent litigation shouldn't be taken lightly. A compliance misstep can stop a thriving midsize business in its tracks. Proactive planning, organization and secure data storage help employers:
meet annual requirements
respond to government inquiries
file claims
and more
3. Report
Compliance is already a challenge; providing detailed reports is another hurdle. And manually drafting reports every year, quarter or whenever a specific law requires them adds an extra burden.
A robust reporting tool helps reduce a time-consuming piece of compliance by automatically building reports without losing accuracy. Consider an option that also adapts to legislative updates and provides reports in government-required formats.
How do midsize businesses maintain compliant payroll?
Payroll poses a number of compliance pitfalls. In fact, 4 in 5 HR professionals say they're stressed by the process, according to a OnePoll survey commissioned by Paycom. The top issues they cite are:
miscalculated overtime
incorrect tax deductions
late expense reimbursement
failed direct deposits
What if there were a way to easily address these issues and look ahead to new challenges? There is, and midsize businesses already have the people to make it work: employees.
A proactive, employee-driven payroll experience guides your people to find and fix errors before payroll runs. HR spends less time stressing over noncompliance and retroactive, rushed corrections because employees verify the data they know best in advance. Empowering workers to manage their own payroll boosts accuracy and streamlines the process, allowing HR to consider compliance at a higher level.
Explore Paycom's single, easy-to-use app for HR and payroll to see how it scales with the needs of your midsize business.
DISCLAIMER: The information provided herein does not constitute the provision of legal advice, tax advice, accounting services or professional consulting of any kind. The information provided herein should not be used as a substitute for consultation with professional legal, tax, accounting or other professional advisers. Before making any decision or taking any action, you should consult a professional adviser who has been provided with all pertinent facts relevant to your particular situation and for your particular state(s) of operation.