As the largest gathering of women and nonbinary technologists in the world, the Grace Hopper Celebration (GHC) is a unique opportunity to learn from and connect with the brightest minds in the industry. This year's conference, themed "The Way Forward," is in Orlando, Florida, (and broadcasted virtually) from Sept. 26 to Sept. 29.
"The Way Forward" is more than a catchphrase — it's a rallying cry for the tech industry to unite and build a more inclusive and equitable future. As a proud sponsor of GHC, Paycom is excited to return. We'll be in Booth #1001, so stop by!
What to expect
With hundreds of sessions to choose from, GHC is your chance to connect with industry leaders and innovators. Last year's event featured over 300 speakers and 30,000 attendees from all over the world. This year's event will be even more remarkable.
Here's what you can expect:
Develop new skills. With technology constantly evolving, staying up to date on trends remains key. GHC is a great place to learn skills and gain insights to help you thrive in a tech-driven future.
Connect with the best in the business. GHC is a unique opportunity to network with other women and nonbinary people in tech. You'll meet several like-minded individuals passionate about making a difference in the industry.
Create a more inclusive future: This year's GHC is focused on creating opportunity through technology. You'll learn about tech's role in promoting diversity, equity and inclusion. Plus, you'll have the chance to make a real impact.
From intern to innovator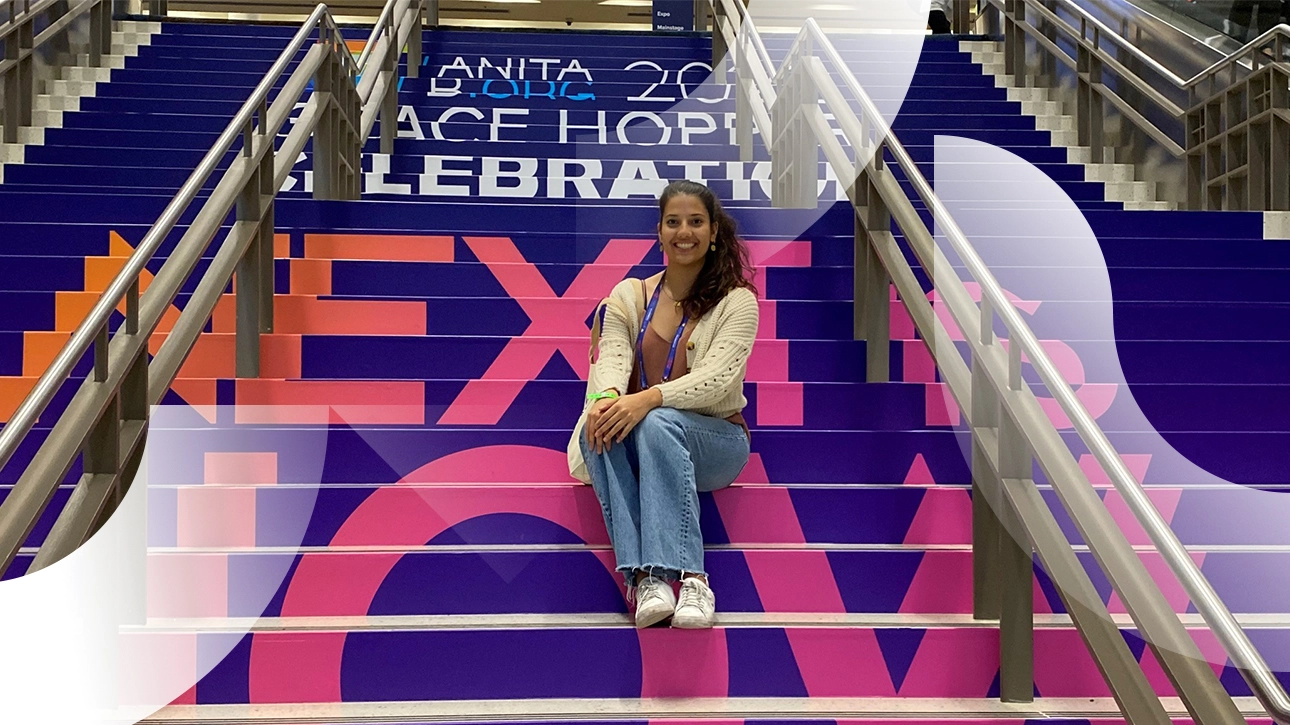 What's it like to attend this one-of-a-kind event? Let Malika, a former Paycom intern turned current Paycom software developer, shed some light.
"Attending the Grace Hopper Celebration is the feeling of support from hundreds of other women who are as driven and passionate about tech as I am," Malika said. "While we might not personally know each other, we are all driven towards Grace Hopper to aid one another. Whatever I may face, someone who has previously experienced it can give me advice, as I can do the same for my younger peers."
Malika offered a few pointers for first-time attendees:
Listen to the perspective of women who have been here longer than you. Ask them about their life stories, like how they juggle being a woman working in a male-dominated industry.
Print your resume before you go. This will simplify giving it to recruiters and networking with attendees.
Note how recruiters treat the people interested in their booth. This says a lot about company culture. Once you compare them, you'll quickly realize where your values align.
"It makes me extremely proud to see my company among hundreds of other companies who are making an effort to promote women in STEM-related fields," Malika said. "As a woman in a male-dominated industry, I feel more at ease and take comfort in knowing that my company cares about me."
Will we see you there? Join Paycom at GHC and be a part of this transformative experience!