Hispanic Heritage Month (HHM) begins Sept. 15, and Paycom is joining the national celebration and recognition of Americans with Hispanic heritage.
HHM encompasses independence days across Central and South America. El Salvador, Guatemala, Costa Rica, Honduras and Nicaragua celebrate the month of September. Mexico and Chile, however, observe their independence on Sept. 16 and 18, respectively.
Set by Hispanic Star, 2023's HHM theme is "Latinos: Driving Prosperity, Power, and Progress in America."
Hispanic Americans continue to prosper and expand their influence. Latinos are vital contributors to the U.S. economy, with a GDP of $2.8 trillion. (That's equivalent to 12% of the country's total GDP.) The Hispanic community's growing influence — from culture to education, entertainment and the tech industry — impacts all of us.
Given nearly 8% of the STEM workforce has Hispanic heritage, Paycom is proud to celebrate and share the stories of its Latino employees. And Paycom's Hispanic employee resource group (ERG), Hispanic Organization for Leadership Advancement (HOLA ERG), offers an important resource for our employees to reflect, share, connect, learn and create a more inclusive workplace.
Celebrating deep roots
HHM celebrates the noteworthy steps Hispanic Americans take across the country. One Paycom employee making strides is Daisy, a Paycom tax specialist and member of the HOLA ERG. The proud daughter of Mexican immigrants, Daisy recently reflected on what this year's HHM theme means to her.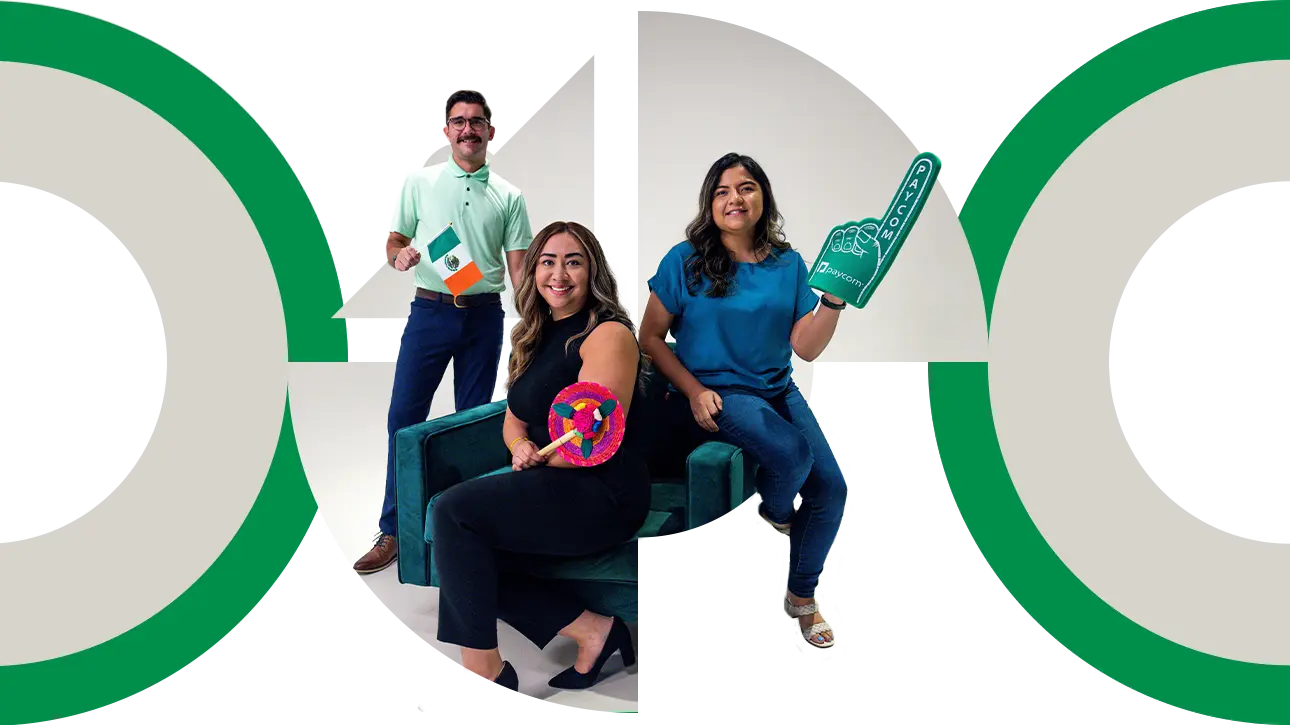 "I take pride in having Mexican roots because of the hard work and sacrifice my parents endured to move to the United States," she said.
Before Daisy was born, her mother took a dangerous journey from Zacatecas to the U.S. in search of a better life. She arrived in El Paso, Texas, and worked for a family that treated her like their own.
"My mother then moved to Oklahoma and met my father, and since then, they have raised me and my siblings toward prosperity," said Daisy.
Although Daisy grew up in the U.S., she knows it's crucial to reflect on her culture and help it thrive for generations to come.
"We are teaching the kids in my family to learn Spanish and keep our traditions alive," she said. "It's fulfilling knowing that traditions and recipes that were taught to my grandparents will continue on."
Daisy also emphasized the unique and meaningful things her culture has to offer.
"Tamales, atole, buñuelos, music and our language. But most importantly, I reflect on the progress my family and many other Hispanics achieve in this country and what is to come," she said.
Fostering opportunity at Paycom: the HOLA ERG
Daisy appreciates the friends she's made through the HOLA ERG. As part of the group, members from departments across Paycom share their culture and experiences while discussing specific ways for ERG members to grow their connections.
"The HOLA ERG members are passionate about growing our group and community by sharing with others about our culture and the continuous contributions to Paycom and the Hispanic community," said Nathalie, the HOLA ERG vice-chair.
The HOLA ERG promotes Latino and Hispanic culture year-round and leads many initiatives across Paycom's campuses. Last year, the HOLA ERG went beyond the walls of Paycom, attending and sponsoring the 31st Latino Community Development Agency Luncheon and the Festival de Vida y Muerte. (The HOLA ERG will proudly sponsor the events this year, too.) Paycom also serves as a member of the Greater Oklahoma City Hispanic Chamber of Commerce.
HHM lasts through Oct. 15, but we should constantly push to recognize Hispanic employees' contributions and unique perspectives. As we champion our employees, Paycom is committed to offering the tools and resources for employees of all backgrounds to succeed.
Read more about Paycom and its diversity, equity and inclusion efforts.